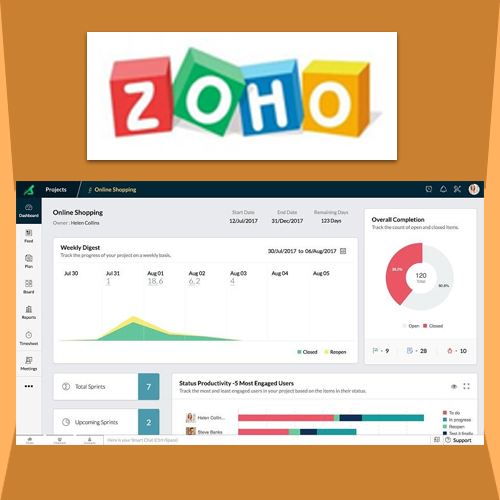 Zoho has announced the launch of Zoho Sprints, its agile project management solution. According to the company, available immediately, Zoho Sprints encourages teams to work iteratively and incrementally, over short periods of time, to quickly release potentially shippable products. Zoho Sprints follows the scrum framework and combines backlogs, agile reports, collaboration tools, and customizable scrum boards, making it ideal for software developers and other teams that follow the agile methodology.
"Developing new software is nothing like making trains run on time," said Sridhar Vembu, CEO, Zoho. "It's more like laying train tracks through unknown terrain, which requires one to improvise and make decisions on the fly. Agile project management formalizes that spirit of improvisation, and Zoho Sprints brings that spirit to life for all agile teams."
The "Agile Manifesto" puts individuals and interactions over processes and tools. Unfortunately, the speed and simplicity advocated by the manifesto is nowhere to be found in today's clumsy, complicated apps for managing agile projects. With Zoho Sprints, agile project management finally becomes fast, easy, and clutter-free, enabling teams of all sizes to put all their energy and focus on building the best products possible. Zoho Sprints lets users:
Put a plan together with the Backlog: The Backlog is where Zoho Sprints users create user stories, tasks and bugs, which can be prioritized in to-do lists based on the business value they deliver. Estimation points, priority rating, and user assignments make it easy to break down the nuances of each user story.
Know where each task stands: The Scrum Board in Zoho Sprints lets teams see how far each work item has progressed. Work statuses can be customized so the Scrum Board reflects a team's personalized workflow.
Access analytics that enable change: Zoho Sprints produces real-time Velocity Charts, Burn-Down reports, and Cumulative Flow Diagrams, so the team can identify bottlenecks and estimate its progress. The Sprints Dashboard gives the snapshot of all activity in the project, so the big picture is always in sight.
Work with collaboration tools for both co-located and distributed teams: Zoho Sprints makes it easy to share progress, comment on developments and engage with the team from anywhere. The Meetings module lets teams schedule sprint reviews, retrospectives, and automate daily standup reminders. For social interaction, team members can use Feeds.
Track work hours: All users in Zoho Sprints can log billable and non-billable hours with Timesheet. Project owners and scrum masters can approve users' timesheets with just a click.
Zoho Sprints is available immediately with user-based pricing that does not tie customers to contract slabs. The free plan supports up to five users and five projects. Paid plans start at $20 for 20 users per month and support an unlimited number of projects and features such as Timesheets and Sprint Replanning. Zoho Sprints is also included in Zoho One, the company's all-in-one suite of applications to run an entire business.
See What's Next in Tech With the Fast Forward Newsletter
Nothing to see here - yet
When they Tweet, their Tweets will show up here.