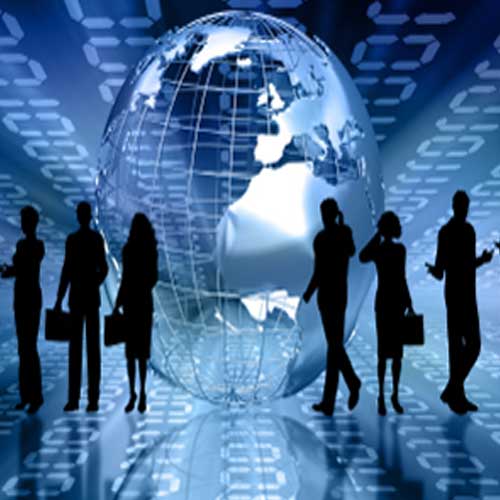 The government of India has Ministry of Commerce & Industry and Ministry of Finance to look after the well being of its trade sector. But to lend a helping hand, various trade associations are being formed. Generally they are voluntary and not for profit associations and chambers that work with the government to strengthen internal trade in the country.
It provides a network for discussions and is a meeting place for stalwarts of the industry and people making these policies. It represents the interests of the commerce and the internal trade industries of India. It provides a platform for policy discussions and formulating plans for the safety and the growth of the industry.
We can't deny the fact that technology is the main contributor for economic growth. There are a few important Industry bodies that facilitate business and trade in hardware, software and services and encourages the advancement of research in India's technology sector. They work towards policy advocacy efforts and have emerged as a strong and effective industry mouthpiece. The members as the think-tanks are aiming to foster digital inclusion and adoption across India.
There are multiple associations formed across the country in the last 5 years for policy advocacy and smooth running of businesses given the changing environment for business transformation. They play a vital role in enhancing efficiency and global competitiveness of the Indian industry and expanding business opportunities both in domestic and foreign markets.
The goal of these associations are to promote trade in both domestic and international arena and reduce trade barriers while fostering conducive environment for the growth of trade and industry of India. They are also involved with various state level associations to bring the regional issues to the limelight to the national level and create awareness.
Association of System Integrators & Resellers in Technology(ASIRT)
Chairman – Jiten Mehta
Tel : +91 022-61542333/22-66122000
Website: www.asirt.in
Association of Unified Telecom Service Providers of India
President – Amit Mathur
Tel: 011 - 23358585
Fax: 011 - 23327397
Website: www.auspi.in
The Associated Chambers of Commerce and Industry of India (ASSOCHAM)
President – Balkrishan Goenka
Tel: 011 - 46550555
Fax: 011- 23017008
Website: www.assocham.org
Association Of MSMEs in IT ( AIM-IT)
Chairman – Vinit Goenka
Tel : 011-40574900
Website: www.aimitindia.com
Automotive Component Manufacturers Association Of India (ACMA) 
Director General, -Vinnie Mehta 
Tel: (91 11) 2616 0315
Fax: (91 11) 2616 0317
Website: www.acmainfo.com
BICSI 
India District Chair – Ninad Desai
Tel: 91 22 27902441
Website: www.bicsi.org
Communications Multimedia and Infrastructure Association of India
President – Prof. N K Goel
Tel: 011-26266411
Website: www.cmai.asia
Confederation of Indian Industry (CII)
President – Mr. Vikram S. Kirloskar
Tel: 91 11 45771000 / 24629994-7 *
Fax: 91 11 24626149
Website: www.cii.in
Digital India Foundation (DIF)
Co-Founder – Ashok Malik
Tel: 011 -0120-4568926
Website: www.digitalindiafoundation.org
Electronic Component Industries Association (ELCINA)
President: AmritManwani
Tel: (91 11) 26928053
Fax: (91 11) 26923440
Website: www.elcina.com
Electronic & Computer Software Export Promotion Council (ESC) 
Executive Director – D K Sarin
Tel: (91 11) 2696 5103 
Fax: (91 11) 2685 3412
Website: www.escindia.in
Federation of All India Information Technology Associations (FAIITA)
President – Champak Raj Gurjar
Tel: +91-9845353629
Website: www.faiita.org
Federation of Indian Chambers of Commerce and Industry(FICCI)
President - Sandip Somany
Tel: 91-11-23738760-70
Fax: 91-11-23320714, 23721504
Website: www.ficci.com
Fire and Security Association of India
National President - Pankaj Dharkar
Contact: 022-63742 1214/22785640 
Website: www.fsai.in
India Electronics and Semiconductor Association
Chairman - Shri. JitendraChaddah
Phone: +91 80 4147 3250/51
Website: www.iesaonline.org
India Mobile Congress
President - Shri. P Ramakrishna 
Phone: 011- 23440236
Website:www.indiamobilecongress.com 
Internet and Mobile Association of India
Chairman – RajanAnandan
Website: www.iamai.in
Internet Service Providers Association of India
President - Rajesh Chharia
Tel: 011 - 26424001
Fax: 011 - 41608472
Website: www.ispai.in
India Trade Promotion Organisation (ITPO) 
Chairman & MD- L C Goyal
Tel: 91-11-23371540
Fax: 91-11- 23371492
Website: www.indiatradefair.com
Infotech Software Dealers Association (ISODA)
Chairman – N K Mehta
Tel.: +91-9821243881
Website: www.isoda.in
Manufacturers' Association for IT (MAIT)
President - Nitin Kunkolienker
Tel: +91-11-2685 5487
Fax: +91-11-2685 1321
Website: www.mait.com
NASSCOM
President – Debjani Ghosh
Tel: +91-120-4990111
Fax: +91-120-4990111
Website: www.nasscom.org 
Other Service Providers Association of India (OSPAI) 
President- S.V. Ramana
Phone: 0120 4319797
Website: www.ospai.in 
Trade Association of Information Technology (TAIT)
President- Samir Parekh
Phone: 022-23861101
Website: www.tait.in 
See What's Next in Tech With the Fast Forward Newsletter
Nothing to see here - yet
When they Tweet, their Tweets will show up here.