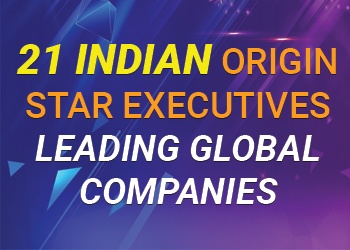 We are familiar with the names like Google's parent company Alphabet CEO Sundar Pichai or Microsoft CEO Satya Nadella, who are Indian in origin technology leaders leading the two most important technology companies of the world. But apart from these two executives, there are few more India born leaders who with their abilities, capabilities, hard work etc. have reached the pinnacle and made us proud as an Indian with their achievements irrespective of the verticals. Let's take a look at the most important executive leaders who are Indian in origin.

Ajaypal Singh Banga
Executive Chairman, Mastercard
Padma Shri awardee, Ajaypal Singh Banga is an Indian-American business executive. At present he is the Executive Chairman of the Board of Directors of Mastercard. Before this, he served the company as President and CEO. He served as a member of President Obama's Commission on Enhancing National Cybersecurity. He is a past member of the U.S. President's Advisory Committee for Trade Policy and Negotiations. He is a graduate of Delhi University and the Indian Institute of Management, Ahmedabad.

Ajit Jain 
Vice Chairman, Berkshire Hathaway
 
Ajit Jain, an Indian American executive, is the Vice Chairman of Insurance Operations for Berkshire Hathaway. 
He started his career as a salesman in IBM for their data-processing operations in India. He was also associated with McKinsey & Co. In 1986 he joined Berkshire Hathaway. He holds an MBA degree from Harvard University.
In 2019, Aman Bhutani joined GoDaddy as CEO. Before joining GoDaddy, he served Expedia. He held different senior positions there. Bhutani did his bachelor's degree from Delhi University and MBA from Lancaster University.
Aneel Bhusri
co-founder, CEO, Workday
With Dave Duffield, the founder of PeopleSoft, Aneel Bhusri co-founded Workday in 2005. Earlier he held positions at PeopleSoft. He has a bachelor's degree from Brown University and completed his MBA at Stanford University.
Anjali Sud
CEO, Vimeo
Anjali Sud holds the position of Vimeo's CEO and she has been serving this position since 2017. Vimeo is an open video platform. Prior to this she has worked with Amazon and Time Warner. She holds an MBA from Harvard Business School.

Anirudh Devgan
President, Cadence Design
In 2018 Anirudh Devgan was appointed as President of Cadence Design. He was also associated with Magma Design Automation and IBM. He has a bachelor's degree from the Indian Institute of Technology, Delhi, and did his master's and PhD from Carnegie Mellon University.

Arvind Krishna
CEO, IBM
Arvind Krishna is associated with IBM for almost 30 years and played several senior-level positions in the company. He became the CEO of the company in 2020. Arvind is an electrical engineer from IIT Kanpur and completed his PhD from the University of Illinois at Urbana-Champaign.

Ashok Vemuri
Chairman of the Board at OSG Connect
An Indian- American business executive, Ashok Vemuri is Chairman of the Board at OSG Connect. He also holds the position of Board of Director for Financial Policy and Public Responsibilities at Kroger. Prior to this he was associated with IGATE and Conduent as CEO. He has done PGDM from IIM, Ahmedabad. 

George Kurian
CEO and president, NetApp
George Kurian in the year 2015 takes up the position of CEO and President of NetApp. Before NetApp, he also served companies like Cisco Systems, Akamai Technologies and McKinsey & Company. He holds a bachelor's degree in electrical engineering from Princeton University and went on to receive his MBA from Stanford University.

Jayshree Ullal
president and CEO, Arista Network
Since 2008, Arista Networks has been under the able leadership of Jayshree Ullal. She is the President and CEO of the company. Ullal led the company to IPO on the New York Stock Exchange in 2014. Apart from Arista, she has also served companies like Cisco and AMD. She studied BS in electrical engineering from San Francisco State University and completed her master's in engineering management from Santa Clara University.

Laxman Narasimhan
CEO, Reckitt Benckiser
Laxman Narasimhan presently assumes the position of CEO at Reckitt Benckiser. Earlier, he was associated with PepsiCo and held various roles. He was previously Global Chief Commercial Officer, with responsibility for R&D, categories, e-commerce, design, go-to-market, global customers and strategy. He holds a degree in Mechanical Engineering from the College of Engineering, Savitribai Phule Pune University and did his MBA in Finance from the Wharton School at the University of Pennsylvania.

Nikesh Arora
CEO, Palo Alto Networks
In 2018, Nikesh Arora became the CEO of Palo Alto Networks. Before this, he served Google and SoftBank. He has a bachelor's degree from the Institute of Technology at Banaras Hindu University, MBA from Northeastern University, and master's of science from Boston College.
Parag Agrawal
CTO, Twitter
From 2011, Parag Agrawal is positioned as Chief Technology Officer of Twitter. Before joining Twitter, Parag was associated with Microsoft, AT&T and Yahoo's research teams. He holds a bachelor's degree from Indian Institute of Technology, Bombay.
Revathi Advaithi
CEO, Flex
Revathi Advaithi is the CEO of Flex Ltd., an American Singaporean-domiciled multinational electronics contract manufacturer. She became CEO in the year 2019. Earlier, she was associated with Eaton's electrical sector business as the President and COO. She holds a degree from the Birla Institute of Technology and Science, Pilani, and MBA from the Thunderbird School of Global Management.

Samir Kapuria
president, NortonLifeLock
Samir Kapuria holds the position of President at NortonLifeLock. In 2004, he got associated with Symantec and was also head of the company's Cyber Security Services business including its global security operations centers. He has done his bachelor's degree in Finance from the University of Massachusetts.

Satya Nadella
CEO, Microsoft
After Steve Ballmer, Satya Nadella became the CEO of Microsoft in February 2014. He started his career with Microsoft in the year 1992 as a developer of Windows NT operating system. He did his engineering at Manipal Institute of Technology and did MS from the University of Wisconsin–Milwaukee, and MBA from the University of Chicago Booth School of Business. 
Shantanu Narayen
CEO, Adobe
Shantanu Narayen, the CEO of Adobe joined the company in the year 1998 as the Senior Vice-President of Worldwide Product Research. He took over as COO in the year 2005 and became CEO in 2007. Prior to Adobe, he was associated with Apple and Silicon Graphics. He is a Bachelor of Science from Osmania University, an MBA from the University of California, Berkeley, and an MS from Bowling Green State University.
Siva Sivaram
President, Western Digital
Siva Sivaram holds the position of President at Western Digital. Before this, he worked at Intel, Matrix Semiconductors and Sandisk. From 2008 to 2012, he founded and served as CEO of Twin Peaks Technologies. Sivaram received his bachelor's degree from the National Institute of Technology, Triuchi. He did his master's and doctorate degrees from the Rensselaer Polytechnic Institute.
Steve Sanghi
CEO and chairman, Microchip Technology.
Microchip Technology was founded in 1989 by Steve Sanghi and he assumed the position of CEO in 1991. He was also associated with Intel. Sanghi holds a bachelor's degree from Punjab University and completed his master's in Electrical and Computer Engineering from the University of Massachusetts.

Sundar Pichai
CEO, Alphabet
In 2019, Indian origin techie Sundar Pichai became the CEO of Alphabet Inc., the parent company of Google. He also became the Google head in August 2014. He has served the company for more than 15 years and he spearheaded key businesses like Android, Chrome, Maps, and more. He did his BTech from IIT Kharagpur, MS from Stanford (MS) and MBA from Wharton.

Thomas Kurian
CEO, Google Cloud
In 2019, Thomas Kurian assumes the position of Chief Executive Office of Google Cloud. Prior to this, he was associated with Oracle and served the company for 22 years. He led product development as a Member of Oracle's Executive Committee for 13 Years. He also led a 35,000-person software development team in 32 countries; 53 cities; R&D Budget of $4.0 Billion for Oracle. He holds a Bachelor's degree in Electrical Engineering and Computer Science from Princeton University. He also has a master's degree in Business Administration from Stanford University Graduate School of Business.
See What's Next in Tech With the Fast Forward Newsletter
Nothing to see here - yet
When they Tweet, their Tweets will show up here.