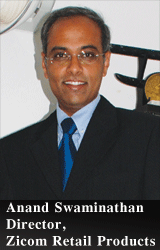 What is the size of the surveillance and security market? How much belongs to surveillance cameras? 
Zicom estimates the market size at Rs.1,500 crore, excluding the fire detection and firefighting products. Surveillance constitutes over 50 per cent of the market mix and happens to be one of the fastest-growing product segments in the industry.
Brief us about the surveillance business and how do you position Zicom?
Zicom was established in 1995. Its activities include the concept of Central Monitoring Station in India. Since its inception, it has diversified into all industry verticals. The company has India's first indigenously manufactured Access Controller. Apart from Pioneering Service Subscription Scheme, it brought the concept of wireless security systems to the country. 
Zicom will continue to be the industry's leading "Electronic Services and Solutions" provider.
How many models do you have in this category?
Zicom's business is categorized into three specific verticals:
Commercial Product Range for SMBs and corporates consisting of CCTV, DVR, Intrusion Detection, Access Control, and Fire Alarm systems;
Residential Product Range for the Home and SoHo segment consisting of Home Alarm Systems, Video Door Phones and Finger Print Locks; and Builders and Developer segment consisting of Multi-Apartment Video Door Phones, Video Door Phones, Home Alarm Systems and Finger Print Locks. 
What are the opportunities for Channel Partners? 
I am seeing distinctively two different partner profiles emerging in the marketplace for this industry: 
One is the pure-play security partners who have been in this industry for quite some time and focus only on security products. 
The other is the IT dealers, SIs and VARs who are looking at security products to improve their margin and revenue mix.
The opportunity for the IT dealers is undoubtedly a higher margin mix compared to the traditional IT products. 
How about the competition in terms of imported products?
Competition is getting hotter now than in the last 15 years, especially in the SMB and corporate segments. But I am glad that we are seeing branded entrants into this market and a level-playing field unlike in the past where competition was from the Chinese products and customers had few brand choices. 
Can you name some of your valued customers? 
Zicom customer base is diverse from various verticals. To name a few, these include HSBC, Federal Bank, Swami Vivekananda Rock Memorial, Siddhi Vinayak Temple, ONGC, NTPC, Damas Jewellers, Prestige Builders and Raheja Builders.  
And, nothing in India is complete if we have not touched upon Bollywood and cricket. Zicom protects the properties of Sehwag, Harbhajan, Ishant Sharma and other Bollywood celebrities.  
How do you see the real estate sector?  
This is one segment where the troughs and peaks are quite rough. As of now, real estate is hot with plenty of growth in the residential segment. Zicom has a separate sales team in all locations across the country focussing on this segment. We have had some very prestigious wins in the recent past. 
Tell us something about your alliance with any major partners?
Zicom is a brand owner. Our sales are through partners and we have toll-free pre-sales and post-sales support and provide Central Monitoring facility for our partners and end-customers. No other company offers this in India. Our distributors are OST in Chandigarh, Shweta in Andhra Pradesh, Nook Micro in Karnataka and Tamilnadu, Streamline in Indore, Suresh Infotech in Rajasthan, Starlite in Lucknow and Devlok in Kolkata.
Tell us about the successful implementation of projects?  
Zicom's integration business which has got the most prestigious installations in the country was sold to Schneider. The installations include Western Railways, Taj Hotels, city surveillance projects in Mumbai, Bengaluru, Jaipur, RBI and Supreme Court buildings, Commonwealth Games, etc. Zicom, after the sale to Schneider, will not be involved in large-scale integration business. Zicom's focus will be on SMBs and corporates as well as on large-scale but non-integration business.
See What's Next in Tech With the Fast Forward Newsletter
Nothing to see here - yet
When they Tweet, their Tweets will show up here.