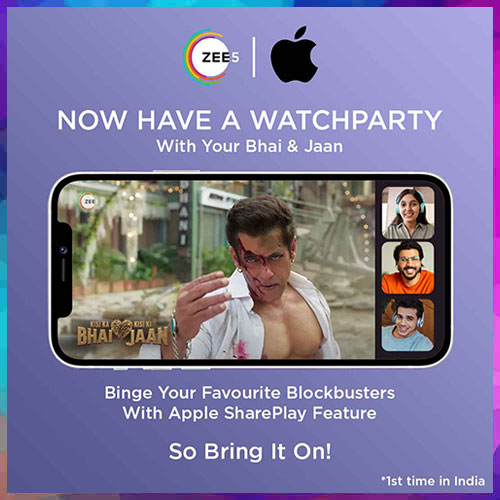 ZEE5 marks a strategic step in line with the platform's digital-first approach, to offer elevated in-app services exclusively to its subscribers via best-in-class tech solution ~
India : India and Bharat's largest home-grown video streaming platform and multilingual storyteller for millions of entertainment seekers, introduced SharePlay with the OTT premiere of Salman Khan starrer blockbuster, Kisi Ka Bhai Kisi Ki Jaan. The feature allows the platform's subscribers to watch content through FaceTime on iPhones and iPads for an enhanced collective viewing experience. This initiative is in line with ZEE5's commitment to create new experiences through best-in-class technology solutions across multiple touchpoints, exclusively for its subscribers.
Mr. Kishore A K, Chief Technology Officer at ZEE5, expressing his enthusiasm for introducing this new feature, emphasized the platform's dedication to innovation and delivering exceptional viewing experiences to its audience. "At ZEE5, our constant endeavor has been to push boundaries and introduce fresh, immersive experiences for our viewers. The addition of SharePlay enables us to provide our users with a captivating social engagement feature, seamlessly integrated into their content consumption journey. As digital technology advances rapidly, we anticipate significant transformations in content engagement, elevating the overall enjoyment. This move marks a significant milestone, inspiring us to continually adapt, refine, and innovate in order to surpass ever-evolving consumer expectations and set new standards for in-app experiences."
Available on iPhones and iPads, viewers can initiate the SharePlay feature on ZEE5 app via FaceTime or iMessages. Users can invite up to 32 people, depending on the device's bandwidth, to join a single session, facilitating virtual reunions with friends and family. Once connected, the feature sends a notification to members, offering the option to choose between "Watch Together" or "Play Only for Me', depending on their preference. SharePlay also includes a smart volume feature that dynamically adjusts audio and enables premium subscribers to stream a wide variety of shows and enjoy music together. This allows members to establish a real-time connection with others on the call, synchronizing playback and sharing playback controls.
See What's Next in Tech With the Fast Forward Newsletter
Nothing to see here - yet
When they Tweet, their Tweets will show up here.