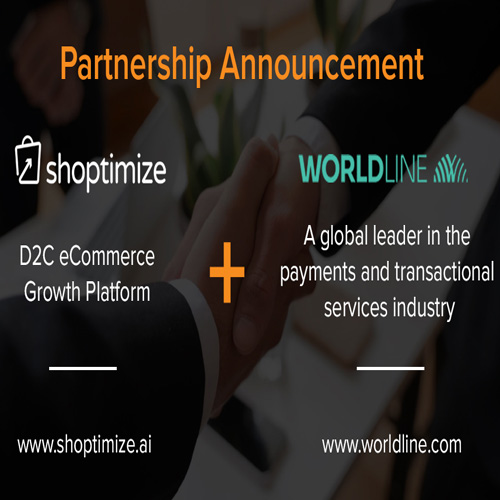 European leader in payments and transactional services, Worldline has partnered with D2C eCommerce Growth Platform, Shoptimize. The partnership enables merchants of Worldline and Shoptimize (D2C brands) to offer new-age digital experience to their online buyers/ customers.
Worldline will incorporate its fully integrated payment suite, Next Gen Payment Gateway with industry best success rate and seamless checkouts for 100 plus Shoptimize merchants. The solution will allow merchants to accept payments from their customers, seamlessly from multiple channels, devices, and modes via a single platform. In addition, merchants will get an access to a powerful dashboard for managing all transactions and tracking business performance on the go.
Shoptimize will leverage its advanced AI powered Growth Platform to help mitigate risks, leverage opportunities and drive revenue growth for Worldline merchants. The Growth Platform brings together data from different sources in the eCommerce ecosystem to uncover trends and patterns, deliver meaningful insights and actionable recommendations that can be executed in real time.
Sheik Mohideen, VP – Small and Medium Business and Channel Partnerships, Worldline, said, "In order to ensure sustainable growth for any direct-to-consumer brands, a safe and seamless payment experience is critical. We are delighted to partner with Shoptimize to provide a seamless payment experience to their merchants. Through this partnership, we will be powering the ambitions of direct-to-consumer brands and we are confident that our innovative payments solutions will simplify payment processes for their merchants."
Vardhan Phadnis, Chief Sales Officer, Shoptimize, said, "Consumer sentiment towards online shopping is very optimistic. We have seen a 300% increase in the number of transactions resulting in a 400% increase in GMV during the recently concluded festive season. We are headed towards a cashless society and digital payments are here to stay. Consumers are looking for new age payment experiences and our partnership with Worldline Global will help us drive growth for the entire D2C ecosystem."
See What's Next in Tech With the Fast Forward Newsletter
Nothing to see here - yet
When they Tweet, their Tweets will show up here.