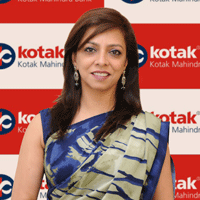 Shalini Mehta
Executive Vice-President
Kotak Mahindra Bank 
Please tell us about Interbank Mobile Payment Service?
The National Payment Corporation of India (NPCI) along with partner banks introduced the Interbank Mobile Payment Service (IMPS) in Nov ember 2010. This service allows customers to transfer funds between IMPS member-bank accounts through their mobile phones. With the availability of this service, one can now make real-time funds transfer on a 24x7 basis. Customers can send and receive money instantly using their mobile number and Mobile Money Identifier (MMID) - a unique seven-digit number for the account. Customers are required to register their mobile number with their banks to receive the MMID, post which they can start transferring funds across accounts in different banks.
How would it benefit the Indian consumers?
The Indian consumer has evolved over a period of time and is now relatively tech-savvy and at the same time pressed for time. On account of these two traits, IMPS will form an important segment of the lifestyle of the Indian consumer now since it allows funds to be transferred while someone is on the move. What all it takes for effecting the transfer is a mobile phone, which is now an inseparable companion of almost all Indian consumers.
Whether the customer is travelling or not being able to access a computer/internet connection, s/he can still make the payments instantly through IMPS, which allows customers the true "right here, right now" banking experience, facilitating increased customer convenience. IMPS will also reach out to customers outside of the typical urban and metro landscapes since mobile penetration is growing significantly across semi-urban and rural locations. Customers in these regions are still not very comfortable with Net banking, but are, however, active mobile phone users. This facility will be equally successful across all types of regions and customer demographics on account of convenience and simplicity of the use.
What about security concerns of the customers during online transactions through mobile phones?
Kotak Mahindra Bank is committed to providing a safe and secure mobile banking experience and has exercised a great degree of due diligence to ensure confidentiality and security of customer accounts. The basis of security for our Mobile Banking is a Two Factor Authentication (TFA). The two factors used for the platform are login ID, password and the mobile handset. A customer can login to the platform only from the handset registered for use by the customer. Further, an SMS is also sent to the customer on the preferred mobile number registered with the bank confirming the registration of mobile banking service. This also acts as an additional security feature along with TFA. Further, SMS and email alerts are sent immediately to the customers on the preferred mobile number and email ID registered with the bank for every transaction carried out on mobile banking. This means that the communications between the client and the (host) Web server are encrypted. The URL for such websites indicates that they are secured since the address uses "https://address" rather than http://address.
Would the coming of 3G result in faster adoption of IMPS?
Yes, with 3G, telecom operators can ensure better quality of service and reduction of network congestion. This will lead to better usage of mobile banking services, and in turn higher adoption of IMPS. Unlike most other countries, we are looking at 3G services not only as premium services but also as an extension of 2G. Since our broadband penetration is abysmal, 3G would provide the much required boost to it. Given that mobile phones are much cheaper as compared to PCs, the demand for broadband on mobile is expected to be much greater. More importantly, 3G will solve penetration problems, especially in the rural parts of India.
How are you making the services available to the customers? Share your various strategies.
With Kotak Mahindra Bank, to send money using IMPS, the sender needs to log into the Kotak mobile banking application, enter the mobile number and the MMID of the beneficiary along with the amount to be transferred. The beneficiary gets the credit instantly. MMID is a 7-digit code issued by the Bank which along with the mobile number will identify the customer's bank and account number. To receive money using IMPS, the customer needs to share the mobile number registered with the bank along with the MMID for the account in which s/he wishes to receive money. Currently, customers can enjoy the service with only those banks that are participating in IMPS.
Customers have been made aware of this service through email and SMS communications. Also, posters, standees, tent cards, etc. carrying information about IMPS have been displayed at various branches and ATMs, in addition to display of information on statement envelope and on our website. There are various other strategies which are also being adopted to increase the usage among the customers as well as internal staff.
How would the services be charged to the customers?
The customer enjoys this service absolutely FREE. There is a nominal transaction cost for IMPS, which is borne by the bank. There is no revenue accruing to the bank for this service offered to customers and is entirely a value-added service offered by Kotak to its customers for FREE and Kotak bears the transaction cost levied by NPCI.
For more contact:
beenish@varindia.com
See What's Next in Tech With the Fast Forward Newsletter
Nothing to see here - yet
When they Tweet, their Tweets will show up here.