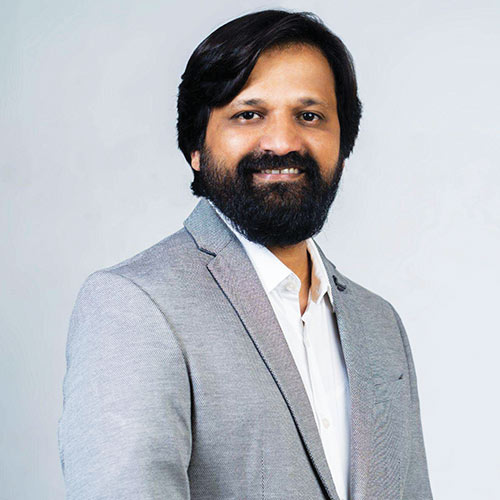 Brief about the company

I hail from a small town in South Maharashtra and my career path has been rather conventional. I did my graduation in engineering and then followed a career in software. So, while I was doing well working for an IT company, there was always this hidden desire to do something different that would help me reach a larger section of society. The retail sector attracted me, and I took on the role of Area Sales Manager in a Retail Company. But I didn't stop at that. With a solid plan and a vision, at the age of 28, I approached Lenovo and started Direct IT Solutions in 2013, the first ever Lenovo Exclusive Store in Pune.

Over the years, with the help from Lenovo and the support of a hardworking team, and my family, we have now grown to 10 Lenovo Exclusive Stores in Pune and South Maharashtra.

Our company's motto is "Customer Satisfaction". We strive to offer our customers with the newest and greatest Lenovo goods in both sales and service.
In a tête-à-tête with VARINDIA, Harshadeep Desai, Director, Direct IT Solutions has shared insights on the business model, growth opportunities, customer trends, challenges faced post-pandemic etc.
Explain about the business model. What are the growth opportunities in the near future?

Our business model is pretty simple. We, at Direct IT Solution, have Lenovo Exclusive Stores that sell a variety of Lenovo Laptops, Desktops, Tablets, and Monitors. The PC industry has had some significant development during and after Covid19 in all areas. The new normal has made the world go completely digital, be it students or working professionals. As a result, we see excellent prospects to sell to this market because we anticipate the trend to continue. With institutions also starting their physical operations, we also expect growth in the corporate sector.

How has the business grown and what has been Lenovo's contribution to your business growth?

Despite the challenge thrown by COVID and online retailers, Lenovo has always stood behind its LES partner. This has really bolstered our business. With good Lenovo tools like the Lead Management System, Virtual Demo, 24x7 Service Support, and Quality of ISD, we could ensure that our customers got what they wanted. In turn, we saw positive results in our overall sales. Lenovo's long-lasting brand recognition and customer trust add to our ongoing benefits.

What is the most preferred brand/product by the customers? Have you seen any customer trends in the last few months?

We see a strong preference for Lenovo among our consumers, especially because many of them are repeat buyers. I personally feel that Lenovo has been a trendsetter with a series of different models and catering to the requirements of all age groups. Customers are now specifically requesting Yoga and Gaming laptops like Legion and Ideapad.

In the past, families could manage with just one computer. This has changed post the lockdown with the "work/study from home" scenario. The trend is to now have a laptop for each person. This has been reflected in customer queries, walk-ins, and eventually in sales.
Another noticeable trend is the age of the customer. Everyone is interested in buying, from young people to seniors. All they require is the right suggestion and the right product recommendation.

How have you tackled challenges post the COVID-19 pandemic?

Covid-19 was an unexpected challenge. During the first wave, we saw a huge demand for laptops but the logistics were a problem due to the "lockdown" situation. By taking all the necessary precautions, we decided to deliver the products to the customer's doorstep. Lenovo ensured substantial stock was given to their LES partners who gave us the confidence to rise up to the challenge and serve the people.

We created a three-model strategy which included - On-call Demo, Safe Delivery, and 24/7 Telephonic Support. The teams took the customers' call, discussed the product features, provided a video demo if needed, and then finally ensured the safe delivery of the product. We put all of the products in sanitized sheets and delivered them outside the gates, followed by an immediate backend call for installation.  We did this practice across all our 10 stores and got a tremendous response from our customers.

What are the changes in the consumer segment driven by technology?
Consumers now have unrestricted access to information thanks to advancements in technology. Social media has given consumers a bigger voice and that has become a new channel to communicate with brands and share their opinions. Companies must adjust swiftly as technology and consumer behavior trends accelerate. Some effects of technology on today's Consumers include - higher expectations, multiple devices, and being more connected via social media.

How has Lenovo been part of your emerging product lines & accessory business?
There have been tremendous changes in the quality of accessories & service post-Covid. This has helped us to improve our profitability. The Lenovo Accessories lineup includes - High-Quality Web Camera, Gaming headphones, Bluetooth Mouse, and Wireless Combos with 3 Year Warranty encouraging customers to buy 'Lenovo' Products over others.

The OMO channel has also helped retain parity by allowing customers to place orders from home to ensure same-day delivery with the same discounts as online.

How are you focusing on upselling & maximizing reach to service more consumers?

The End users expect fast and frustration-free support. Lenovo being the No.1 PC Brand, has good initiatives in terms of Services. The premium support understands what the partners require in order to resolve their issues, and helps provide that support.
For the past three years, we have had direct lines between customer and technical support, next-business-day repair service and prioritized parts access, ADP - accidental damage protection, and on-site service. We ensure that our sales team explains all features to end customers and how user-friendly the process is, over the phone. This keeps our customers happy and they keep returning back to us.
See What's Next in Tech With the Fast Forward Newsletter
Nothing to see here - yet
When they Tweet, their Tweets will show up here.