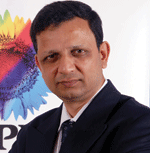 With the humungous augmentation of Data in an enterprise, storage becomes an integral part of an organization. This is leading the organizations to move towards a unified data centre which encompasses integrated computing, storage & networking technologies. The storage vendors are looking for solutions, that are competitive and cost-effective, to address storage consolidation, standards-based management, information lifecycle management (ILM), effective information security and reliable disaster recovery.
Wipro delivers business value to storage vendors through its breadth of services, process excellence and innovative engagement models. With over a decade of experience in storage product engineering across the technology stack, Wipro offers end-to-end services for developing and sustaining new products globally.
Raghavendra Prakash S, G.M. & Business Head- Wipro Systems and Technology says, "We have been on a ramp up phase of our storage operations and are very proud to have received very good feedback from our customers. We are striving to give our customers the best in technology in terms of reliability, availability and scalability."
Datacenter Storage for the Enterprise
A. Improvements to application availability: Storage is independent of applications and accessible through multiple data paths for better reliability, availability and maintenance.
B. Higher performance: Storage processing is off-loaded from servers and moved onto a separate network, thereby increasing the overall application performance.
C. Centralized and consolidated storage: Optimized utilization, better scalability and increased flexibility.
D. Disaster protection and securing to remote sites: Remote copy of data can be enabled for disaster protection and threats against malicious attacks.
E. Simplified centralized management: Consolidation of storage simplifies management as administrators can manage a single instance of storage.
Beneficiaries
One of the biggest trends in the world of data is the growth of "Big Data". Pictures, video, e-commerce and IPTV and corporate computing are driving more and more storage. The cloud story is also catching up with users opting to work on the move using mobile phones, tablet and laptops. There is a growing need for all data to be available on all these devices. Wipro netStor US series storage is ideal for Big data and cloud requirements. With the right spread of products, Wipro caters to BFSI and media industry as well.
Wipro data centre storage has two series of storage products -
Wipro netStor Work Group Series caters to storage requirements of SMBs and branch offices, mid-range enterprises. It provides best in class performance and features like drive spin down, battery free cache backup, modular design to enable data in-place upgrade etc.
Wipro netStor Unified Storage (both file and block access) caters to mid-range to large enterprises with the flexibility of providing the best in class performance, scalability and manageability. Wipro netStor US series supports multiple protocols such as CIFS, NFS, FC, iSCSI and Infiniband. This series of storage products are packed with features such as multi-level data protection, inherent virtualization, unlimited file size support and unlimited snap shots. It also offers Compression, encryption, Dedupe and thin provisioning as standard features. The storage architecture supports auto storage tiering enabling the usage of hybrid storage pools and replication.
 Raghavendra Prakash S says, "In the enterprise market more than 35% of the business happens through distribution. Wipro has a long history of working with Channel partners and we leverage them to grow our business in this space."
See What's Next in Tech With the Fast Forward Newsletter
Nothing to see here - yet
When they Tweet, their Tweets will show up here.