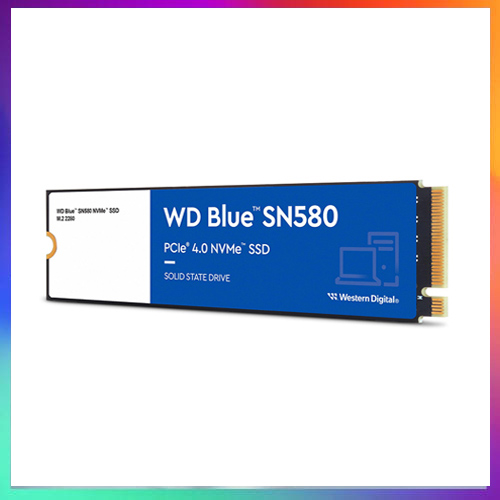 In today's world, demand for visual brilliance and digital content creation is skyrocketing. This is paving the way for more advanced technologies that support the production and consumption of rich content. For consumers, students, and professionals, fast, reliable tools are a must-have to keep their imaginations flowing. 
Building upon its SSD portfolio, Western Digital released the WD Blue SN580 NVMe solid state drive (SSD). The new, NVMe PCIe Gen 4.0 internal flash drive is purpose-built for the creative enthusiast community and professionals to use when upgrading current PCs or elevating a custom build. 
Khalid Wani, Senior Director- Sales, India, Western Digital, said, "As the demand for immersive digital content grows in India, so does the need for high-performance tools. With lightning fast NVMe PCIe Gen 4.0 technology, the WD Blue SN580 NVMe SSD turns lengthy load times into a thing of the past. Its slim M.2 form factor accommodates up to 2TB of content, and the 5-year limited warranty ensures peace of mind. Whether you're a professional or an aspiring creator, this SSD is made just for you. 
Jaganathan Chelliah, Senior Director- Marketing, India, Middle East and TIA, Western Digital, said, "Today content creators work with resource-intensive applications and large multimedia files such as 4K videos, and they often encounter challenges such as lengthy loading times. Western Digital addresses such concerns with its latest offering- the WD Blue SN580 NVMe SSD. It is designed to boost productivity and enable creative professionals to create more, without the inconvenience of prolonged file transfers or slow program loading." 
The WD Blue SN580 is the first drive within the WD Blue product portfolio to feature nCache 4.0 technology and NVMe PCIe Gen 4.0 to enable professionals, PC builders and content creators to focus more on what they do best rather than worrying about load and file transfer times.  
Key features of the new WD Blue SN580 NVMe SSD include: 
NVMe PCIe Gen 4.0: Boost productivity and multitask effortlessly between projects with large and complex workflows with increased application responsiveness and boot times with up to 4,150 MB/s read and write speeds† (1TB - 2TB models). 
nCache 4.0 technology: Enables blistering fast copying of large files and media assets with high burst write performance and hybrid SLC cache for an optimized creator workflow. 
Sleek design: Up to 2TB ‡‡ of storage on a slim M.2 2280 form factor for reliable storage of applications, data, and media including photos, 4K videos and music. 
Reliability: Have peace of mind with Western Digital's 5-year limited warranty* and a rating up to 900TBW** (2TB model). 
Low Power requirements: Keep creating uninterrupted when you're in the zone or on the go with DRAM-less, low-power storage to help maximize your laptop's battery life. 
Pricing and Availability 
The WD Blue SN580 NVMe SSD is now available for purchase at Amazon website and select retailers, e-tailers, resellers and system integrators, and comes with a 5-year limited warranty. Capacities range from 250GB‡‡ up to 2TB‡‡ with the 1TB Drive at Rs 4599/-. 
See What's Next in Tech With the Fast Forward Newsletter
Nothing to see here - yet
When they Tweet, their Tweets will show up here.