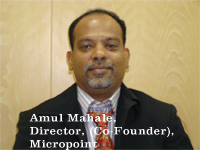 With a dedicated service of 21 Years in the IT industry, Micropoint knows the nerves of "Service", "Facility Management", "IT Managed Service", "Remote-Infrastructure Management". With 225 qualified engineers, the Company is very well poised to cater to any organization in India. 
Micropoint Computers Ltd. has been active in the realm of information technology in India, since the advent of the digital age. The Company's strengths are in Internet Infrastructure Consulting, Enterprise Infrastructure Consulting, Network Consulting, Security Consulting, Storage Consolidation, Disaster Recovery/ Business Continuity Consulting for SMBs.
Micropoint's mission is to enhance the customer experience by providing Business Critical Computing Infrastructure and ensure customer success through solutions and services. It provides solutions combining essential core services with a variety of key options -offering ultimate service flexibility. Micropoint delivers the right blend of services to meet the business needs. It has established itself as a premier provider of IT professional services. 
Our team comprises of resources certified/ trained in CA (Computer Associates), Administration, Cisco, HP, Citrix, VMware, Windows Administration, Veritas, Oracle/ SQL Database. In addition to these, we encourage customers to train our resources in in-house application support so that we take on additional responsibilities and make more time available for the customer to focus on their key focus areas. As a result, the Company is well positioned to deliver creativity, commitment, technology and experience.
They follow ethical practices in all their business dealings without any deviation. Warm, friendly, engaging, genuine, driven, tested and proven - are the synonyms that define Micropoint's team. 
In an exclusive interview with VARIndia, Mr. Amul Mahale, Director (Co-founder) speaks about the industry's storage trends and their relationship with HP. Following are the excerpts....
What is the market trend you see in India?
The market is getting matured and it is not as earlier when maximum deals were around SAN and NAS, subject to User data. But, today, the customer is appreciating newer paradigms of ISCSI, Scale Out Storage Virtual Storage as well.
What are the product ranges you deal in for HP?
If you ask us about the HP product range we deal in, we can proudly say that we offer complete portfolio to meet all kinds of customer requirements. In a nutshell, we can say that we live with HP and die with HP.
What about the products and services you are into?
We play the role of an SI but with a different go-to-market strategy. We play a consultative role with customers. Hence, we manage to sell everything like from Laptop Desktop to huge Server Clusters and from Tape device to higher-end Monolithic Storage.
What kind of margins/ benefits you get? What is the criteria?
There cannot be a single answer to this as each deal is different and has different Closure Dynamics and hence margins vary accordingly.
Which are the most popular products which are selling more in the market?
From Storage Per say the most popular range of Storage is EVA and gradually P2000 G3 is achieving its market share.
What are the benefits you get from HP Storage?
HP Storageworks Division offers a win-win proposition for customers and partners both technically and commercially.
How important is after-sales service support? What kind of support/ incentives you get from HP- SWD?
After-sales service is the backbone of the IT industry and therefore HP follows Ceremonial Support Model where, as per the Business Criticality of customer we can bundle Support SLA. For example, for non-critical or redundant Systems we have standard NBD support and further, for Critical system we have 24X7 support and further Strong SLA of 6 hours CTR is available where 6 hours is resolution time commitment and the best USP with HP is we can also configure proactive services where any component crossing defined health parameter threshold and is likely to fail would be replaced in advance. 
How is your business module targeting the growing SMEs in India?
The need of the hour is to cover SMEs. To get most share out of the growing wallet and hence we have initiated bundle solution offers for the SME market. To name some, we offer packaged solution having compute, Hypervisor DR ready storage with backup included and is doing well and HP has a broad range of offerings which help us to meet most of the SME requirements. 
Tell us about your geographical presence in India?
Our support and sales footprint is well spread across India. And, geographically, we cover cities like Mumbai, Pune, Baroda, Indore, Kolkata and Chennai. 
How have you structured the sales network in terms of competition?
As we understand, IT procurement is mostly business driven and hence our GTM follows the same and our entire Sales and Presales Team follows the concept of positioning Solution which enhance customer's business and we have structured our team as per the Domain expertise.
For more contact:
mohini@varindia.com
See What's Next in Tech With the Fast Forward Newsletter
Nothing to see here - yet
When they Tweet, their Tweets will show up here.