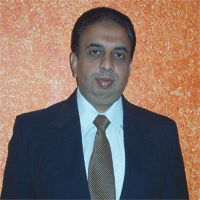 Chandan Joshi
 Director,
 Vintech Electronic Systems Pvt. Ltd.
Pune-based Vintech is a well-known system integrator in the IT hardware and software solutions, which uses latest technology, latest products, implements new concepts in the management and excellent business practices and ethics to deliver a "VOW" service, solutions and products to its customers. Since its inception in 1997, the company has seen a steady growth, but from 2005 onwards it has been a stupendous journey. There was no looking back for Vintech with the flooding of repeat and new customers both.  
Vintech believes in building a strong, meaningful and long-term relationship with all its customers, vendors, partners and employees. Besides their association with Apple, Cisco, Emerson, Microsoft, NetApp, Sharp and VMware, their relationship with HP has been very strong since day one. Over time, the association has grown by leaps and bounds. The association with HP in terms of selling storage has been a stupendous success and added volumes to the total annual revenues of Vintech especially in todays time. 
With only one office based in Pune, Vintech has been able to cater to its customers in a 100-km radius on an immediate basis. Apart from this, they have supplied and serviced orders from Delhi to Chennai, depending on the requirements of customers. At present, they provide regular service in 12 major locations across India and most part of Western India, either directly or through associates. 
---------------------------------------------------------------------------------------------------------------------------------------
What market trends do you see in India?
We have seen a very positive growth in the market for the last six months. SMEs have started buying and whatever projects that were put on hold due to recession have been revived. Apart from the normal hardware buying pattern, customers are focussing on projects like ERP, server-storage consolidation, virtualization, disaster recovery, etc. A number of pilots are going on for VDI and of course the Cloud. Although cloud technology is the buzzword today, very few projects are actually being executed. But a large portion of the medium and large customer set is toying with the idea, doing pilots, working out the ROI and with Cloud success stories getting added every month. The cloud story, at least the private one, is definitely something to look out for in the near future.
What are the product ranges you deal in for HP?
Vintech is a Premier Business Partner and Authorized Service Provider for HP and has the rare distinction of also having a Carry in service centre for laptops. We deal in the entire range of HP products right from personal and enterprise printers, thin clients, desktops, laptops, workstations, Intel servers, small and enterprise storage and Unix servers. We also deal in HP software products, Networking and service products like Carepacks and Annual Maintenance Contracts. Especially in todays time Storage is the hot selling cake and we are glad to be selling HP.
What kind of products and services you are into?
As mentioned above, we sell and service the entire range of HP. Apart from that, we are Microsoft Gold Partners handling the entire licensing portfolio and focussing on implementation of Exchange and Share point and also development in Microsoft Share point. We are also VMware Enterprise partners capable of designing and implementation of server virtualization and VDI. At the same time, we are Cisco business partners and Apple corporate resellers. We have partnerships with Emerson for UPS and Data Centre solutions, NetApp for Enterprise storage solutions, Sharp for office automation products and a few more. 
During the last one year, we have entered the area of Facility Management with some notable customer wins recently. We have tied up with Kaseya for RIM or remote infrastructure management and Sapphire for Infrastructure management products like Helpdesk, Asset tracking, etc.
What are the benefits you get from selling HP Storage?
For normal product sale, we work on 3-5% upfront margin. Sometimes, it is even less, depending on the competition. For HP, being a Premier Business Partner, we carry quarterly targets and are eligible for back ends on achieving them. For solutions, we charge according to the complexity of it and manhours required to implement it. For other vendors also, there are target-based incentives. For the past one year, we have seen good sales figures for workstations, desktops, laptops, Intel servers and storage. We have done decent business in printers and networking. 
HP Storage has a very large portfolio starting from entry-level standalone that drives to enterprise-level fibre channel SAN and beyond. Hence, there is a lot of scope to address all kinds of storage requirements from customers. Also, since HP is very aggressive in the server market, selling storage as an attach or a solution from a single vendor becomes easy to position. 
How important is after-sales service support? 
We, at Vintech, believe in maintaining long-term relationship with all our customers. Hence, after- sales service support is extremely important for all our products and solutions. Since we are a Service Provider, we have the service culture in our organization and we believe in working closely with customers till the project is up and running. For HP, since we are service providers, we provide direct on site support and HP supports us well in the back end. Our engineers are trained and experienced on HP storage products. 
How are you targeting the growing SMEs in India?
Vintech's strength has always been its strong presence in the SME space. 70% of our customer base is SMEs. As such, our business model has always been to offer the entire gamut from a pen drive to business critical server-storage solutions. We keep our team continuously updated on the latest technologies and offer solutions based on these to the growing SME customers to address their business pain points. Our model has been to invest in new technologies, implement them in our own organization in a live environment, showcase them to our customers and help them to adapt to those.
For more contact:
beenish@varindia.com
See What's Next in Tech With the Fast Forward Newsletter
Nothing to see here - yet
When they Tweet, their Tweets will show up here.