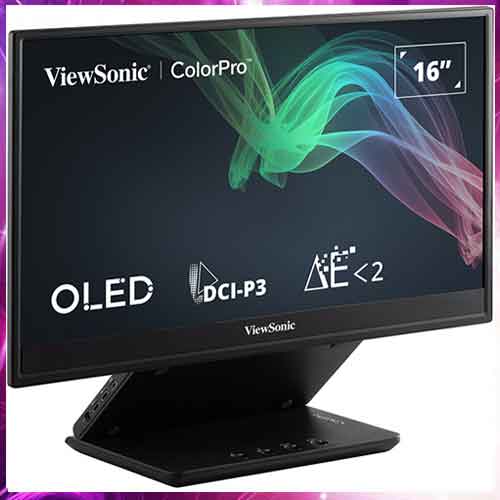 ViewSonic announced the launch of the VP-16 OLED, brand's first portale  monitor with OLED technology. The advanced 15.6" ColorPro monitor comes with 1080p Full HD (1920x1080) resolution and Pantone Validation for remarkable color reproduction and immersive visuals.
The ColorPro VP16-OLED features an OLED display that offers superbly crisp images that are free from halo effects, reproducing blacks perfectly. The OLED screen is individually lit by a series of light-emitting diodes. This delivers better contrast, higher brightness, wider viewing angles, a broader color range and much faster refresh rates when compared to standard LCD monitors. Additionally, since OLEDs do not require a backlight and filters, they perform excellent in image quality and are thinner and more efficient in terms of power consumption.  
Commenting on the new launch, Sanjoy Bhattacharya, Director Sales and Marketing - IT Business, ViewSonic India said, "At ViewSonic, we understand the need for a powerful monitor that increases productivity, is mobile and offers the best color-critical features for the creators on the move. It is our constant effort to innovate and develop technology that enhances efficiency and caters to the needs of our consumers and we are thrilled to launch VP-16 OLED in India. It is the first portable display in our ColorPro series specially designed for professionals seeking flexibility in their work. The color reproduction on the new model is extraordinary, and the USB Type-C connectivity adds to the resourcefulness of the monitor. We hope the new launch will help our customers bring their hard work to life, and we will continue pushing boundaries to deliver high-quality products." 
The latest ultra-thin and lightweight monitor offers a wide color gamut to 100% DCI-P3, Delta E<2, providing a higher contrast, better brightness, and a more comprehensive color range. A 100,000:1 high-contrast ratio delivers "true black" and expresses lightness and darkness in detail-which is essential for professionals with precise color demands. Additionally, the display emits lesser blue light than regular monitors, minimizing visual discomfort and maximizing comfortable viewing. The monitor also has a detachable protective cover, acting as a shading hood for an instant "dark room" effect. This maintains a high-definition viewing experience regardless of the brightness of the environment. 
Adding to the adaptability, with a 60Hz refresh rate, the new unit also offers USB Type-C connectivity with 40W two-way power charging. The monitor can be powered by a laptop, or it can deliver power to a laptop or mobile device via pass-through charging when plugged into a USB-C power bank or AC adapter and outlet. The monitor also comes with a mini-HDMI port and3.5mm headphone jack. 
VP-16 OLED includes an ergonomic height-adjustable stand that provides more comfortable viewing angles for nearly any working position. The stand also includes a tripod mount for additional versatility that can easily be adjusted for five different angles for better user experience and comfort. The tripod mount can further be integrated into the stand. When connected to a camera, the display can seamlessly be used as an incredibly high-quality photo or video preview display for fine adjustments in the field and indoor and outdoor shooting. 
Designed with dual-integrated speakers, this monitor combines incredible screen performance with stereo sound for an immersive multimedia experience. Furthermore, the ENERGY STAR certification of the product helps save on energy costs while reducing greenhouse gases. 
The new 15.6-inch monitors are available on Amazon and are priced at MRP of INR 75,000 and EUP (end-use-price) INR 49,999 + Taxes 
See What's Next in Tech With the Fast Forward Newsletter
Nothing to see here - yet
When they Tweet, their Tweets will show up here.