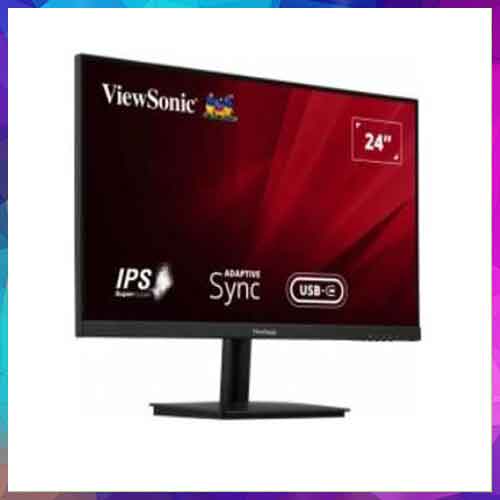 ViewSonic Corp. announced the launch of the latest edition of their USB Type-C 24-inch monitor – VA2409-MHU with SuperClear IPS panel, high refresh rate, and a three-sided frameless design to enhance productivity and declutter the workspace.
The latest addition to the Type C monitor list, VA2409-MHU comes with a Full HD 1080p resolution with HDMI, VGA and USB-C inputs for flexible connectivity. The monitor's high refresh rate of 75Hz, dual built-in speakers, and multiple ViewMode - "Game", "Movie", "Web", "Text", and "Mono" makes it an ideal addition to any workspace set-up. Additionally, VA2409-MHU has a three-sided frameless design and an eye-care technology that allows seamless viewing experience to the new display unit.
With versatile connectivity, the new unit offers flexibility with HDMI, VGA and USB-C connectivity. The USB Type C single cable solution further provides faster audio and video transfers with power delivery of up to 65W. Monitor's 178-degree vertical and horizontal viewing angles ensures an extraordinary wide-angle vision with consistent brightness and amazing accuracy no matter the vantage point.
Commenting on the new launch, Sanjoy Bhattacharya, Director Sales and Marketing - IT Business, ViewSonic India said, "It is our objective to keep innovating new technology that help in enhancing our customer's experience and meet their requirements. USB Type C connectivity is a great addition to our product portfolio. We want to offer a monitor range that is not only efficient but also help declutter the desk space with high-speed data transfer and Type C is just the right solution for this. Our new monitors provide the best of tech and features with SuperClear IPS panel, ergonomic design, multi-port connectivity and various work modes. We hope the new monitor allow our consumers to have the best of both worlds while effectively managing their workspace."
Furthermore, VA2409-MHU provides dual built-in speakers and an Eco mode that successfully reduces carbon footprint and significantly lowers office overhead costs with its low energy consumption.
The new 24-inch monitors are available on Amazon and are priced at MRP of INR 17,000 and MOP INR 10,940 + Taxes.
See What's Next in Tech With the Fast Forward Newsletter
Nothing to see here - yet
When they Tweet, their Tweets will show up here.