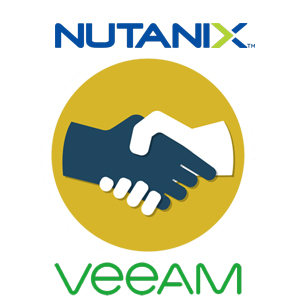 Veeam Software has announced an expanded partnership with Nutanix in which Veeam becomes the Premier Availability solution provider for Nutanix virtualized environments. In addition, Veeam adds support to Nutanix AHV in its flagship Veeam Availability Suite, allowing joint Nutanix and Veeam customers to benefit from an enterprise-class Availability solution, and therefore help dramatically accelerate enterprises' Digital Transformation strategies knowing that they can deliver on user expectations for a seamless digital experience.
"This partnership brings together the leader in Enterprise Cloud Computing, Nutanix, with the leader in Availability solutions – both focussed on delivering multi-cloud solutions to the enterprise," said Peter McKay, Co-CEO and President, Veeam. "As we continue to make greater inroads in the hybrid-cloud segment, we understand that our customers now require solutions that span both their on-premises and cloud IT environments. We are excited to be the premier availability solution for supported Nutanix virtualized environments."
As a software-defined Enterprise Cloud Platform, Nutanix enhances performance and dramatically simplifies the management of application workloads across physical and virtual environments. IDC suggests the market for hyper-converged infrastructure (HCI) will be worth $7.5 billion by 2021, as a result of the technology gaining traction in enterprises as more businesses investigate its potential benefits.
"HCI has become one of the fastest growing segments of the enterprise infrastructure market by enabling new levels of agility and operational efficiencies within key parts of the data center infrastructure market," said Eric Sheppard, Research Director, IDC. "Veeam's support for Nutanix AHV brings a proven availability platform to this growing market at a time when hyperconverged solutions are increasingly deployed to support mission-critical business applications, and thus in need of just such a platform."
"Nutanix continues to invest in strategic relationships to strengthen our partner ecosystem," said Sudheesh Nair, President at Nutanix. "We are delighted to recognize Veeam as the premier Availability solution provider for supported Nutanix virtualized environments, in helping our joint customers gain peace of mind as they advance their digital transformation strategies."
Both Veeam and Nutanix are fully committed to the channel, so partners will benefit from a combined, highly differentiated solution that will increase partner sales opportunities. Veeam will become a Strategic Technology Partner within the Nutanix Elevate Alliance Partner Program, as well as be a featured app in the new Nutanix marketplace. Both initiatives will advance the Veeam ecosystem, further extending support for the digital transformation initiatives of customers and partners.
See What's Next in Tech With the Fast Forward Newsletter
Nothing to see here - yet
When they Tweet, their Tweets will show up here.