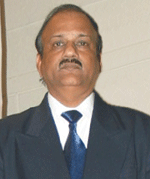 How would one react to the situation where his/her PC does not have any moving parts inside it? You cannot listen to your favourite number or even cannot store your data. Hei! You have to bear with it because this situation is going to arise sooner than later. You may accept it or not it. This is Thin Client technology, the objective of which is to provide you with an uninterrupted and safe computing at a far lesser cost. The obtrusively visible PCs are definitely going to feel the heat of competition from its poor sibling – Thin Client. The study says the Indian market for Thin Client is growing at nearly 100 per cent year-on-year. Can this salivating figure keep the vendors rest in peace? No! Thin Client vendors like HCL Peripherals and VXL Instruments have really stepped on the gas and the MNC players including Wyse Technology, Neoware and ClearCube have chalked out expansive plans in India.
There are strong reasons to support the claim of Thin Client's spread vis-à-vis the ubiquitous personal computers, although non-networked PCs will still continue to grow. Apart from the low cost of acquisition and low running cost, the Thin Clients do not fall into frequent service-related issues because there are no moving parts inside. As per IDC, Thin Client provides 40-per cent cost advantage over the PC. And, on the face of frequent virus attacks and opportunistic malwares in the network, this particular technology can ensure a safe computing as the clients remain at the beck and call of the centrally-managed server system. As far as physical security is concerned, Thin Clients are far safer than other personal computers.
Ten years back, when the concept of Thin Clients surfaced in the market, it was shown a cold towel – of course with an initial hoopla. It was obvious to receive such treatment as the operation was slower and had a fair resistance to different software platforms.
But now the things have changed, and the lacunae with the technology have been done away with. As Mr. Michael Kantrowitz, Chairman & CEO, Neoware, says, "The perception that Thin Client is a 10 years old technology, which has a lot of barriers including slow network and resistance to various software applications have been rectified. At the same time, the promise of 10 years back, i.e., lower cost, better manageability, security, immunity from PC viruses, protection of corporate data, etc. is still persistent here. The net result is the Thin Client market is growing very rapidly.
" To understand Thin Client, it is a server-centric computing platform, the hardware of which is not visible because of its small form factor. In this scenario, the server becomes the mother computer, which stores data and as per the requirements of the user, the system administrator grants access rights.
Mr. V. K. Gupta, Managing Director, Medley Marketing Pvt. Ltd., says: "It is a fit-n-forget kind of stuff, which is maintenance-free as well. It also assures people of 7-8 years product life. The margin for the channel partners is much better and it is not susceptible to power disturbances." According to Mr. R. Srinivasan, General Manager and Head of the Marketing & Support Division of HCL Peripherals, "There are numerous benefits – both tangible and intangible – in going for Thin Clients. Thin Clients occupy less space and are cost-effective With applications sitting in the servers, Thin Clients are free of virus, a major problem in a PC-driven environment." It is a service centric market. The most important aspect of Thin client is application and after sale support, where HCL Peripherals is very strong. IDC says the enterprises Thin Client market is set to more than double. Its unit shipments worldwide in the next few years are likely to touch 7.6 million units in 2006.
India being one of the fastest growing adopters of computers, it has turned out to be a preferred destination for Thin Clients. For example, the government sector has put in place an expansive plan of mass computerization under its e-Governance initiative, which can consume millions of Thin Clients, if the policy matter permits. Besides, there are other booming sectors as well, including BFSI, ITeS, manufacturing, defence and education.
Mr. Surya Prakash, Head – Sales, WYSE Technology India, says,–"The total market of Thin Clients in India is around 1 lakh units and is growing at around 70 to 80 per cent compared to the global growth of 40 per cent.
" Since the product needs a lot of integration, it is not a box-mover's choice, rather a take of VARs and SIs. Mr. Gupta of Medley Marketing says,'"This market is not crowded. It is a niche market where the margins are protected." The margin is surely higher than that of the PCs plus a lot of service margin. He also agrees that the government sector till now was not looking at it very seriously, but now the Uttaranchal Government has put Thin Client in the rate contract, which symbolizes the government's willingness for this.
Given the statistics that the Indian market for Thin Clients is growing at around 80 per cent, there has to be competition. So, it is between a handful of players. HCL and VXL are the domestic manufacturers, followed by Wyse and the new entrant, Neoware. When HCL and VXL are the No. 1 and 2 in the Indian market, Wyse and Neoware are No. 1 and 2 in the global market. Another vendor ClearCube, which one should not forget, has launched Blade PC, which may be the next- generation product of Thin Client, also falls into this bracket.
Neoware in India entered the Indian market in May 2005 in partnership with Parrus IT Solutions Pvt. Ltd. This US-based company provides the entire solution (software and hardware) for Thin Client. Mr. Michael says,
"We also provide software to convert the existing PCs into Thin Client without replacing the hardware."
Parrus IT is headquartered in Bangalore, but it has a development at Noida. Along with development, Parrus IT does all the ground work activities, including sales and marketing for Neoware.
Mr. Sowinder Singh, Director, Parrus IT Solutions, opines, "We also work with Neoware to develop software and customize software for India.
" Parrus IT has a group of 40 dedicated people focussed on Neoware's business. To understand Neoware, it was a direct sales company five years back, but today it goes into markets exclusively through the partners. Vendors include Lenovo and IBM, which are also its partners.
Mr. Michael says, "We are virtually 100-per cent channel-centric company. Five years ago, we have evolved our strategy from a
direct organization to an indirect organization. We are a market leader in the world with 26 per cent of share," he added.
Neoware is the fastest growing player in the global Thin Client arena. It has grown from five per cent to 25 per cent in this space in just five years' time.
The company has launched a single product now in India. But, moving forward, there will be more products with different flavours and versions from Neoware. To strengthen its feet on the ground, the company isin the process of developing channel partners.
As per the last quarter report of IDC, the Indian Thin Client market has grown by 47 per cent, whereas the US market has increased by 25 per cent during the same period. So, the market for Thin Clients is growing twice the rate of US.
Mr. Michael maintains, "Our strategy is to grow the Indian market. We are investing in developing channel partners to enable channel partners capitalizing the Neoware Thin Client technology. We are investing in local development resources to how channel partners customize the individual customer's needs. We have set up local sales resources here, local development resources here and local cus tomization resources specifically targeted at the unique requirements of Indian market.
" Asked about the target set by the company in India, Mr. Michael says, "Neoware is not a start-up company; we are a public-listed company in the USA. We are in the Indian market for the long term. We have been in this market and leading this market for the last ten years, which means over that period of time, we have invested significantly in this business and we will continue to do so. Last year alone, we have spent $50 million in building programmes about ownership of key software technologies and building our global support centres so that we can provide localized software in the key marketplaces.
" Reacting to Neoware's presence in India, Mr. V. K. Gupta of Medley Marketing, says, "VXL has the exposure all over the world. We are the third-largest in the world, after Wyse and Neoware. This equation is going to be changed very soon.
" According Mr. to V. K. Gupta, the USA is the biggest market for Thin Client, where VXL did not have good presence. However, it has been rectified from the last year as the company has signed up with one of the large distributors to sell the Thin Client's products under the VXL brand. On the other hand, Mr. Surya Prakash of WYSE says, "WYSE being #1 Thin Client company across the globe, and even APAC, we have big ambitious plans to retain the same spot well in India, too." He maintains, "WYSE has been in competition and winning orders against Neoware in many geographies. In India also, we have been successful with several wins. Our product features, and acceptance in the marketplace has been very high." WYSE, in fact, started their Indian operations in the month of January 2005 and since then they have penetrated very good accounts. The company has about 6,000 installed bases in India.
Of course, the market leader is HCL Peripherals. Its factory at Pondicherry manufactures about 4-5 thousand Thin Clients per month, which can scale up to 8-9 thousand per month. As per Mr. Srinivasn Thin client enjoys 30:70 vis-à-vis PCs, which will grow to 40-50 per cent future times.
Finally
The enterprises spend a sizable amount to support and maintain PCs, which can be curtailed by a huge margin with Thin Clients. The US and European markets have understood the utility of this wonderful product. Now, the Indian subcontinent has to understand it. The more the competition, the quick will be the victory of Thin Client market!
See What's Next in Tech With the Fast Forward Newsletter
Nothing to see here - yet
When they Tweet, their Tweets will show up here.