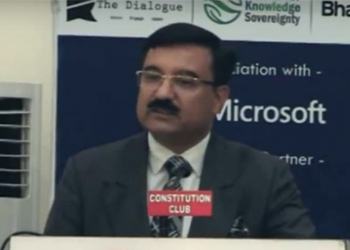 Hemant Goswami
Chairman – Bharat Niti

"Talking about identity thefts, every time you go to a public place, whether to obtain an arm's license or a ration card, you have to prove your identity fresh. There is no chance of someone stealing your identity as it is very difficult to prove it. What has changed after the new cyber revolution has taken place? 

 I wonder whether the whole new cyber world in which we are living now, has made us more secure or are we on the edge of facing different kinds of threats from fraudsters. It is hard to believe that the world we are now is very secured than what it was earlier. What India is doing right now I think nowhere in the world any country is doing. In the US it is so difficult for citizens to go to any bank and withdraw money; even the Internet money transferring or transferring money from one bank to anothertakes them 3 days, IMPS is unimaginable for them.This is the new environment which we have created. This is where we have moved to from a place where your identity was not secured to a place where your identity is certain and cannot be stolen as of date. The concern for US, which is identity theft is not here in India. I have not seen Aadhaar related frauds in India. It maybe 1 in a million but it is far less than what is happening in US right now. So, from where we have come and where we are going is something we must appreciate when we discuss about cyber security. I think the kind of example which we are creating for the world is unparalleled. The scales on which we are working are unparalleled. We are working on such scales that we are the natural leaders in the whole world of cyber security and electronic transaction. We are creating new models for that. So when we discuss about privacy laws and how to make it more secured, we must understand that what we have created till now is far better that what has ever been created in the world till date."
See What's Next in Tech With the Fast Forward Newsletter
Nothing to see here - yet
When they Tweet, their Tweets will show up here.