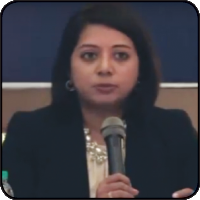 "Today we run the risk globally in general and in particular India of getting exposed to filtered information and the best way to tackle this by reading the morning newspaper. The paper, whether you like it or not will tell you everything. It will not curate information based on who you are. This is a serious problem because today a football fan will read only about football news. We are raising an entire generation of citizens who are ill informed of the things they are not particularly interested in. And so we are raising a generation who is becoming selective in terms of what information he wants. Now the dark side of that is fake news. I don't believe the government can step in because that will amount to censorship and undemocratic. But the person who can step in at this moment is you. There is a very good way to check if something is fake or not by being smarter than that algorithm. You can verify that information by checking two top newspapers if they have published any news on that topic or not." 
Faye D-Souza 
Executive Editor – Mirror Now
See What's Next in Tech With the Fast Forward Newsletter
Nothing to see here - yet
When they Tweet, their Tweets will show up here.