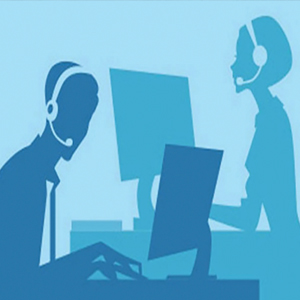 A product alone does not sell by the brand name. Because of the changing customer perception as also the multiplicity of product options available today, after sales service goes a long way as an important factor in helping a customer decide on a product - 

India is one of the largest hubs for after-sales services. The service sector is one of the highest contributors to the Indian economy. It not only brings in scope for foreign direct investment (FDI) but also attracts large scale hiring of talent. The tremendous scope for growth in the Indian market has set the stage for global players to build their teams here due to the cost arbitrage, skilled talent pool and vast hiring potential of service sector employees. 

"With its vast demographic, knowledge levels, infrastructure availability and distinct usage habits, India presents a very unique market opportunity," reiterates Sudipto Ghosh, Executive Director – Services, Lenovo India. "Today, the Indian market receives the latest products and competes almost at par with its global counterparts. This leaves the Indian consumer spoilt for choice across all price points when it comes to high-end features. With the ever-increasing digitization in India, the urban consumer is well informed and also quick to share their positive or negative experiences in real-time."

"Most companies today have a dedicated department to cater to the customers' post-sales needs since it is a critical element of customer relationship management. While companies invest in reaching out to newer markets, one cannot forget the needs of the existing customer base. A strong after-sales support team can boost the brand value amongst customers," says Sudhindra Holla, Country Manager, India & SAARC - Axis Communications.

Opines Balgound Chougula, VP- Customer Support & RMA, D-Link (India), "Customer engagement is a long term commitment and after-sales plays a crucial role in building a brand's credibility. Customers are sensitive towards brand reputation, and are constantly looking for friendly local after sales support."

With increased penetration of internet and smartphones, technology companies are constantly working on disrupting through better customer experience.
"The first thing that organizations need to understand is that customer service is not a cost center anymore. Over time, customers have started expecting the same quality and speed from service providers across the market. India being an important market, providing an exceptional service is the key part of people's overall experience," Sanjay Pai, Managing Director – India, Genesys asserts. 

 "There is no doubt across any industry today that the paradigm of the support and services is undergoing transformation, shedding its traditional support processes," says Srikant Attravanam, Director – Services and Support, Hitachi Data Systems.  "Those days are fast fading when there used to be maintenance windows to perform support activities. Businesses today expect 24X7X365 availability, be it on premise, on cloud, hybrid, for their critical services with absolute 100% availability.  Gone are those days when customers used to log a support call in call centre asking for engineer alignment for an issue. Today most if not all, Infrastructure support systems are getting automated, becoming highly intelligent and are able to collect, analyse and predict the failures much in advance before it can cause a negative impact loaded with AI and call home features to despatch support engineer or resolve issue remotely and proactively." 
Innovative customer experience...
Businesses don't believe in just selling products anymore, rather they want to build a relationship with customers. Through constant engagement, customers get extra value with the services and are ensured the best experience, while boosting loyalty simultaneously. 

"Innovation is the key today. Businesses need to constantly think of newer ways to approach the experience factor for their customers. It is the bridge between how things were done and how it can be improvised. There is a dedicated service team to guide customers if they facing issues with the products," says Sanjay.
"Companies are seen reworking on their philosophies to place customer's need at the center of all service initiatives. This value chain is observed throughout the organization right from the chairman to last mile consisting of field force who regularly meet customers and incorporate their feedback for proactive corrective actions," opines Sudipto.  

In a bid to simplify customer care, companies are also adding newer technologies like Big Data Analytics and AI chatbots in the back-end to enhance customer support system. Another standout feature of today is the use of videos which help customers to understand complex products. "We believe that it is the provider's duty to provide support to the customer as long as the products are in use. Videos are easy to understand and can guide them through installation, troubleshooting, software management and quick tips on using the right accessories suitable for the right products," says Sudhindra. 

After-sales is certainly one of the factors that contribute to a brand's capability to build enduring relationships with its customers, according to Nikunj Murukutla, Sales Director, Consumer and Small Business, Dell India. "At Dell, we strive to deliver customer service across multiple platforms - from tailor-made technology like SupportAssist Technology to Dell's social media assets, Facebook and Twitter."
"Xerox has been the pioneer in launching the "After Sale Service Concept" for office automation in India. Xerox Service Operations in fact have been a benchmark for the industry which evolves with the changing customer requirements to further enhance the overall value proposition. Xerox, in its endeavor to deliver better value to its customers, has a unique EUREKA Knowledge base, which has multiple solutions for the same problem faced by engineers across the globe. This makes the company an undisputed leader in the industry, and having a great number of repeat customers further validates its strong customer service operations," says Anurag Gupta, Director - Customer Service Operations, Xerox India.

"We make all information to be provided on the box so that the end customer can easily call or write to our support. NETGEAR has close to 15 service centers/pick up points across India. Customers can also get in touch with us through NETGEAR India pages on Facebook and Twitter," says Marthesh Nagendra, Country Manager, NETGEAR, India & SAARC.

Similarly GIGABYTE have been investing in after-sales service in India for more than 10 years and it has its own repair service centers and 50+ collection centers in India. "Our senior engineering team has developed the auto de-bug software which can detect the problem within 15 minutes. With its 3D Storage process, Gigabyte can also has the real-time component and RMA buffer data. Combining software and hardware set up in GIGABYTE service centers in metro locations, 95% of customer's issue can be resolved within the same day," states Sunil Grewal, Director, GIGABYTE India.

Social media offers the unique opportunity to listen to customers and engage in a two-way dialogue with them. There has also been transformation in consumer conversations since companies started listening and engaging with customers on social media and addressing their concerns in real time. Similarly Apps also assist consumers to understand products better and they can access to its worldwide community which will address to most of their issues.

Today, brands are using analytical tools such as big data analytics, predictive analytics, social media analytics, speech analytics, and various others to cater to the emotional factor of customer's experience, thus increasing their customer base. Every company is looking to offer a differentiated experience.
"Interestingly, a study commissioned by Genesys in partnership with Frost & Sullivan, reveals that India ranks the second highest, behind China, in IoT-Enabled customer maturity compared with other APAC markets. Across India, the research revealed organizations see high value in integrating of tools like IoT into their CX initiatives compared to other markets in the region. Such insights help roll out successful implementations to truly realize the potential of these technologies to improve customer experience," says Sanjay Pai.

"In a fast-paced digitized world, a customer looks for complete information at one place without any intermediary and hence, providing real-time information empowers a customer. Increasingly, they prefer resolving their own problems as much as possible," says Sudipto.
Indeed, in today's dynamic world a brand is as good as a customer's perception basis his last experience with the brand. Hence it is imperative for brands alike to constantly engage, build a sustaining relationship with the customer and make their journey with the brand effortless with new age tools like social media, apps and chatbots.

"Chatbots and apps have come to forefront with the boom in the worldwide internet adoption and smartphone market. Data shows that Tier III Indian cities are the largest adopters of smartphones and PCs for communicating with customers, managing business data and accounting related activities. Today, one doesn't expect a person to answer their queries, rather a bot to guide them through the process. These technologies have reduced the average time taken to address queries by customers. It has also reduced errors and dependency on humans," points out Sudhindra. 
Upgradation of technology is one major step to ensure customer satisfaction. Technology in the customer service segment provides customers with access to proactive and predictive support rather than just reactive support. It also helps reduce the time taken to provide a resolution, benefiting the company, and satisfying customers.

Says Prasanta Kr Das, Vice President, Value Solutions, DASSAULT SYSTEMES, "While there are app/chat bots for optimization/suggestions for customer queries before actually diverting calls to service executives, the use of Artificial Intelligence or Machine Learning for customer service in an industry of 3D design, Digital Mock Up, PLM has some way to go before it actually can be implemented on ground and in a country like India. Our endeavor is to deliver / create value for the customer with seamless customer experience that our technology and products can offer."  
Evolution of Customer experience centers...
Over the past few years, customers have evolved in the way they communicate, learn about products and make purchase decisions. Next generation customer experience centers help address the evolving customer behaviour by allowing companies to redefine and share a new service vision. Once the basics of customer service are in place, brands will be able to integrate customer touch points and maximize loyalty, irrespective of whether the approach is through traditional or next generation customer experience centers.

"The next generation customer experience centres involve utilization of a variety of media channels including chat, Web, email and video to deliver content-rich, the consumer-centric experience that eventually and significantly improve client satisfaction. Customers expect you to know their problem. This integrated solutions that combine traditional contact center functions with enterprise social software, and business intelligence help to tie all pieces together and deliver on client expectations. I believe that adoption of these solutions will increase responsiveness and reduce query resolution time and will deliver powerful self-service solutions that will enhance the consumer experience," says Amrish Mahajan, Director – Customer Support, Acer.

"Experience centers are a great new approach to showcase products in an immersive environment. Customers deserve to experience the products they want to purchase. While it is still at a nascent stage, the established customer experience centers have made an impact on the purchasing decision of buyers. These centers not only work as a demonstration space, but also as an intelligence gathering space. The buyers who come to these centers review all the possibilities and provide their feedback on what could be lacking and features they would like to include with a particular offering. This helps the company plan new products and also form a feedback mechanism with our SI's, partners and end users," says Sudhindra.

India is slowly picking up on the trend of providing enhanced customer experience through contact and customer centres. While it is still at a nascent stage, many brands have realized the importance of giving customers a real-world experience of what they have to offer.

"We believe that the concept of customer experience centers is evolving, with brands continuously innovating their offerings to take experience to the next level. These centers are equipped with the latest technology and logistics and can take care of both in warranty and out of warranty repairs," says Nikunj. 
Role of Channel in services...
Channel partners are extended part of any brand. The critical retail experience for customers is delivered through partners. It is imperative that channel is empowered with the right information, service back-up, collaboration, product ranging and regular training to provide a seamless customer experience.
Customers are looking to interact with vendors through seamless ways across multiple channels. The answer to this is Omnichannel Customer Service. Every business organization is focusing on increasing its customer base by providing solutions on multiple channels where customers can interact and their behaviour can be ascertained. By dynamically integrating and empowering channels in real-time, companies will be able to understand, engage and embrace omnichannel customer environment.

"Overall communication is the key. Just as passing of information from Vendor to channel is important, in the same manner it is essential for partners to absorb all the knowledge & pass on the details to end-customer. Toll free support, service center information or details on support programs offered by vendor should be readily available with re-sellers so that they can pass on the information accordingly to customers. This will eventually lead to a seamless customer experience," believes Balgound. 

"A brand provides a seamless customer experience when it helps a customer enjoy a great service and expertise from experienced professionals until they own its products and services. Be it offering pre and post-sale support to making it easier for them to sell, it covers them all," says Nikunj.
And so...
Today, services are playing a significant role in customer satisfaction and retention. It is as important as product quality since, both equally help to meet customer's expectations. It is helping brands to generate loyal customers and strengthening the bond with them. These days, every brand is trying their best to offer finest services to the customers in order to spread a positive word of mouth. A satisfied customer refers your business to other individuals and eventually leads to more loyal base and sales. 

"At Genesys, we constantly experiment with technology innovations to bring about advanced customer interface to create a seamless service experience. The key here is to understand your customers well. In fact, according to a study commissioned by Genesys in partnership with Frost & Sullivan, Indian organizations are open to implementing new technologies and have an optimistic view of IoT as a key enabler of sophisticated customer experiences," contends Sanjay Pai.
Balgound also agrees that customer engagement across various platforms is very crucial for business these days. "With the advent of technology & especially internet, people are constantly looking for immediate solution," he concludes. 

Companies at the same time are working towards understanding the changes in the consumer behaviour and are adapting to them accordingly. An initiative to engage more intensely with customers, gaining better customer insights, and leveraging service propositions is helping brands grow revenue. 
Samrita Baruah
samrita@varindia.com
 
See What's Next in Tech With the Fast Forward Newsletter
Nothing to see here - yet
When they Tweet, their Tweets will show up here.