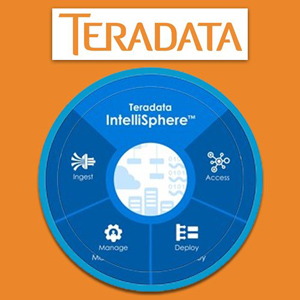 Teradata has announced Teradata IntelliSphere, a comprehensive software portfolio that unlocks a wealth of key capabilities for enterprises to leverage all the core software required to ingest, access, deploy and manage a flexible analytical ecosystem.
* Ingest: Using IntelliSphere, companies can easily capture and distribute high volume data streams, with ready-to-run elastic architecture and quick access for business-critical analysis.
* Access: Companies gain easy access to data stored anywhere, even in a hybrid cloud or heterogeneous technology environment.
* Deploy: Deploy applications and analytic models for easy user access and enterprise collaboration.
* Manage: Management software allows for ad-hoc data movement, as well as ongoing monitoring and control via an operational interface.
"Teradata IntelliSphere is a powerful, all-encompassing suite of robust software that orchestrates the modern analytical ecosystem and ultimately powers advanced analytics at scale," said Oliver Ratzesberger, Executive Vice-President & Chief Product Officer, Teradata.
He added, "With IntelliSphere, companies no longer need to purchase separate software applications to build and manage their ecosystem. Companies can design their environment to realize the full potential of their data and analytics today, with a guarantee that future updates can be leveraged immediately without another licence or subscription."
Rajesh Shewani, Head – Technology and Solution Architecture, Teradata India, said, "Today, businesses are increasingly looking for solutions that meet their advanced data analytics needs while at the same time optimizing their existing resources and allowing for speed and flexibility. There is a strong shift towards the adoption of open source, advanced analytics, digital and hybrid cloud environments in India. We are excited to announce the availability of Teradata IntelliSphere, as this innovative solution will take away the complexity of managing different tools from our customers enabling them to operate a flexible, cost-effective and scalable analytical ecosystem."
"As our analytical ecosystem has grown more sophisticated, we have relied on Teradata software to maintain orchestration of our environment while continuing to gain faster time to value, increased productivity and greater user adoption," said Kiyoshi Sasaki, President of Data & Science Solutions Group, Chief Data Officer, Yahoo Japan Corporation.
"With IntelliSphere, we can gain access to all of the components we need now – or will need in the future – to implement a flexible analytical ecosystem at a price we can both predict and afford," he added further.
Teradata IntelliSphere is composed of ten software components, including:
* Teradata Listener
* Teradata Data Lab
* Teradata QueryGrid
* Teradata Unity
* Teradata Hybrid Cloud Manager (available end of 2017)
* Teradata Data Mover
* Multi-system Viewpoint
* Teradata Data Stream Extension
* Teradata Ecosystem Manager
* Teradata AppCenter
According to the company, as new software solutions are released in the future they will become part of the IntelliSphere bundle, so customers will get the benefit of access to new Teradata software products under their existing licensed bundle.
"Our research shows companies are attempting to stitch together all the required software to manage an analytical ecosystem from multiple sources and vendors. The complexity and expense of managing this environment can be overwhelming for many companies," said Dave Menninger, SVP & Research Director, Ventana Research. "At the same time, companies are facing a market that is much more dynamic, so they need to adapt and innovate much faster. Teradata IntelliSphere is a comprehensive analytic software portfolio that can make it easier for customers to build and share solutions across a multi-system environment to test intuition and innovate faster."
Teradata IntelliSphere complements Teradata Everywhere and the Teradata Analytics Platform. Teradata Everywhere is a flexible, agile and scalable way to ensure high return on analytic investments, while limiting the risk in making those investments. Teradata Analytics Platform is a key component of Teradata Everywhere, that enables analytic users throughout the organization to use their preferred analytic tools and engines across data sources at scale.
IntelliSphere is now available for purchase. In addition to the IntelliSphere software portfolio, new professional services offerings will be made available to companies to help them more easily implement solutions that take advantage of the software components.
Tags: Teradata, IntelliSphere Software Portfolio, Analytical Ecosystem, Teradata IntelliSphere, Oliver Ratzesberger teradata, Rajesh Shewani teradata india, varindia, Teradata Listener, Teradata Data Lab, Teradata QueryGrid, Teradata Unity, Teradata Hybrid Cloud Manager, Teradata Data Mover
See What's Next in Tech With the Fast Forward Newsletter
Nothing to see here - yet
When they Tweet, their Tweets will show up here.