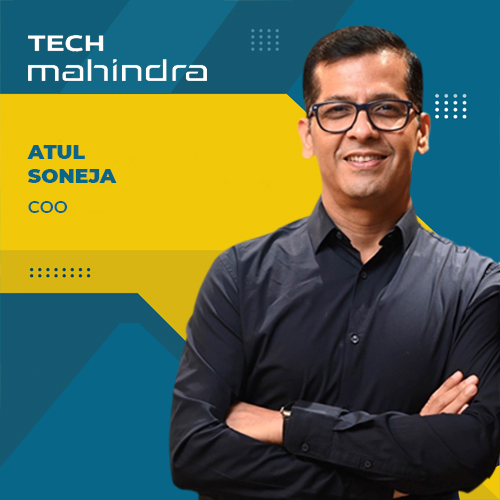 Tech Mahindra has announced the appointment of Atul Soneja as the Chief Operating Officer (COO) effective 7th August, 2023. 
With over 28 years of experience as a technology executive, Atul is a proven leader known for deep strategic expertise, building a culture of success, and driving business transformation through focused execution in challenging and competitive markets. Prior to this, Atul served as the Chief Operating Officer at CitiusTech where he was responsible for managing the overall Delivery, Service lines and Operations for CitiusTech. Before joining CitiusTech, Atul held several leadership roles in Infosys and its subsidiaries, from managing multi-billion service lines across multiple industry segments like Financial Services, Retail and Manufacturing, to heading the AI and Automation platform business of Edgeverve, a subsidiary of Infosys, conceptualizing and driving several strategic programs through his tenure. 
CP Gurnani, Managing Director & Chief Executive Officer, Tech Mahindra, said, "On behalf of the Board and the entire team, I am happy to welcome Atul Soneja to Tech Mahindra. His rich experience and vast knowledge of the industry, combined with his relentless dedication to automation, make him an ideal candidate to lead our operations. At Tech Mahindra, we have always strived to be ahead of the curve and have continuously invested in the future of technology and the people who can enable it. We are confident that Atul's expertise will help us drive growth and enhance our capability to deliver innovative solutions."      
Mohit Joshi, Managing Director & Chief Executive Officer Designate, Tech Mahindra, said, "We are happy to welcome Atul Soneja as our COO. He complements our high-performance culture, and his execution-focused approach, firm belief in extreme ownership and zeal to build a collaborative culture make him the perfect choice to lead our operations. With him on board, we look forward to driving scale and growth globally." 
Commenting on his appointment, Atul Soneja, said, "I am thrilled to join the leadership team of Tech Mahindra. I believe it is a business with an extraordinary global mark, a strong brand portfolio, a highly skilled team, and an unparallel reputation as a leader in technology. My vision is to continue the momentum that Tech Mahindra has by leveraging next-gen technologies."
See What's Next in Tech With the Fast Forward Newsletter
Nothing to see here - yet
When they Tweet, their Tweets will show up here.