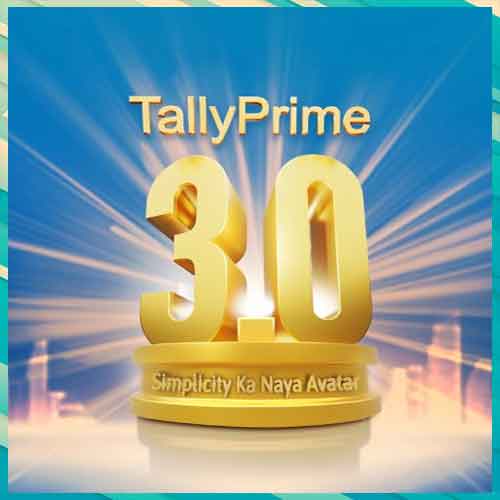 Tally Solutions announces the launch of TallyPrime 3.0. With this latest release, comes a completely revamped GST solution, significant improvements in the reporting capability, and better capabilities to help businesses collect outstanding dues faster. Tally Solutions hopes this release will be a steppingstone to double its revenue and take its customer base from 2.3 to 3.5 million customers in the next couple of years. 
Commenting on the launch, Tejas Goenka, Managing Director, Tally Solutions said, "Since the start of the GST journey 6 years ago, we have seen many changes by the government both to simplify and tighten the compliance system. Keeping this constant change in mind, we have completely revamped our GST experience to make it tremendously flexible for businesses to remain compliant with confidence. We have also taken our reporting system and introduced the ability to create unlimited custom reports with simple to use search and save capabilities. We are committed to bringing solutions to our customers that they can truly use and grow with." 
With the multi-GSTIN capability, TallyPrime 3.0 users will be able to manage multiple GSTIN data in a single Tally Company giving tremendous flexibility to the customers to maintain their business data centrally using a single company with ease and efficiency. The new release ensures trailblazing speed while generating GST returns and reconciliation of GSTR 1, 2A and 3B in a much more seamless manner. It offers a digital payment request feature, enabling businesses to enhance operations and scalability.  Businesses can generate and embed payment links or QR codes into their invoices or other reports. Customers can make the payment through various preferred modes like domestic and international debit and credit cards, EMIs, Pay Later, Net banking, UPI and mobile wallets thereby significantly increasing the speed of money movement and easing out cash flow problems for the business owners. Tally has collaborated with PayU and Razorpay as payment gateway partners.  
The already powerful reporting system of TallyPrime has been powered even more with the all-new reports filters that come with a simplified one-click experience to filter data in reports, making it easier to manage the business. The product also includes several other powerful capabilities such as a new user experience with the powerful Go To, connected capabilities allowing the generation of e-way bills and e-invoices from within the product, and a more adaptable reporting experience with Change View, Basis of Values, Exception reports, and Save View. TallyPrime 3.0 assures experience with greater simplicity and efficiency. The new version is free for users with an active TSS subscription. 
See What's Next in Tech With the Fast Forward Newsletter
Nothing to see here - yet
When they Tweet, their Tweets will show up here.