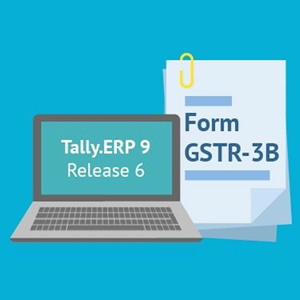 It's a little over a month that GST has come into effect and under normal circumstances businesses would be hurrying to file their GST returns. The government with a view to calm the nerves among business owners has provided some relief with the regular filing norms being relaxed for the first 2 months. As a substitute to this, all businesses are expected to submit a consolidated summary of their sales and purchases through a form called 3B. However, this still needs to be a submitted in the GSTN portal like a regular return. Tally Solutions, the premier Indian software company, has announced the release of Tally.ERP 9 Release 6.0.3 which will allow users to generate Form 3B.
Given how critical precision of data is in the GST regime, Tally.ERP 9 Release 6.0.3 promises easy generation of accurate Form 3B through its powerful error handling experience which intuitively prompts the user on gaps in transactions and helps correct them. In addition, the release supports vehicle, LR/RR numbers in GST invoices, invoices with cess support for tobacco based products and coal and refund for cancelled transactions against advance receipts and payments. Users will also get a dashboard which details of reverse charge liabilities arising out of dealing with unregistered dealers.
Tejas Goenka, Executive Director, Tally Solutions, said, "In our continued effort to help India transition smoothly to the GST era, we are making yet another release to support businesses to keep pace with the requirements of the law. The response till date has been phenomenal, with more than 60% of our customers moving to the GST-ready release in just 1 month. Once 3B is submitted, we will make yet another release to support our customers to move file their GSTR 1 as early as possible."
The company along with its 20,000+ strong partner network has already conducted more than 7,000 GST events across the country. It has tied up with associations like CAIT, FAIDA, ASSOCHAM, CII and principal companies for the same and reached out to more than 2 lakh businesses already. Tally also launched an exclusive blog (blogs.tallysolutions.com) and mobile app (Tally for GST) to demystify and simplify GST. In order to help businesses who are currently maintaining books manually to automate in the GST era, the company recently launched Biz Guru in association with Acer India and CAIT. Biz Guru is a one-stop plug-and- play accounting and GST compliance solution. They intend to continue these initiatives and drive several more activities to help the business community with GST.
Tags: Tally.ERP 9 Release 6.0.3, tally erp 9, tally gst, gst, tally gst form 3b, tally solutions, form 3b, Tejas Goenka Tally Solutions, Tally for GST
See What's Next in Tech With the Fast Forward Newsletter
Nothing to see here - yet
When they Tweet, their Tweets will show up here.