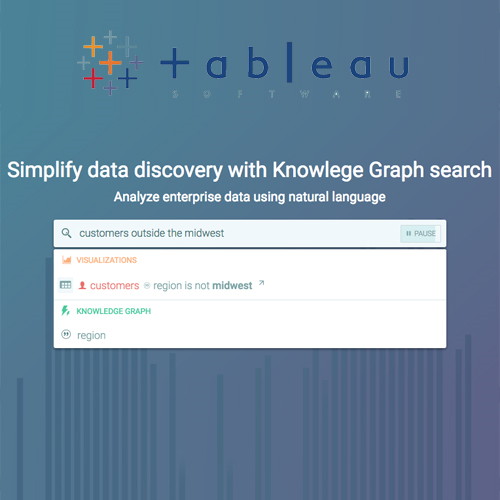 Tableau Software has acquired ClearGraph, a cutting edge Palo Alto start-up that enables smart data discovery and data analysis through natural language query technology. Tableau plans to integrate ClearGraph's technology into Tableau's products, making it even easier for more people to interact with their data by using natural language to ask questions and search for insights.
"We are thrilled to bring the ClearGraph team to Tableau to enable people to ask questions of their data using natural language," said Francois Ajenstat, Chief Product Officer at Tableau. "Natural language queries will make it easier for more people to interact with Tableau, whether you're an executive who needs an answer quickly, or on a mobile phone and want an answer from your data on the move. We're excited about this acquisition as the ClearGraph team shares our mission and is aligned with our innovation perspectives on conversational analytics."
ClearGraph makes it easy to analyze data using natural language. It brings a consumer-like experience to users by connecting disparate data sources and making them accessible and intelligible through simple conversational style search. ClearGraph's unique natural language query technology stores semantic data in knowledge graphs that can expand and learn over time. Accessing and analyzing data using ClearGraph requires no technical training, as the system can infer users' intent through natural language. For example, people could ask questions such as, "Total sales by customers who purchased staples in New York," then filter to, "orders in the last 30 days," then group by, "project owner's department."
"We founded ClearGraph because we saw a need to bridge the gap between humans and computers through natural language, especially when it comes to exploring data," said Andrew Vigneault, CEO of ClearGraph. "Tableau is a natural fit for us because we have similar missions, cultures and genuine desire to help more people around the world access, interact with and get answers from their data."
See What's Next in Tech With the Fast Forward Newsletter
Nothing to see here - yet
When they Tweet, their Tweets will show up here.