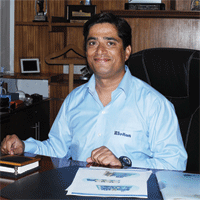 Kunwer Sachdev
MD, Su-Kam India
What kind of trends do you see in the Indian market when it comes to power backups?
Customized Power-backup solutions for big industries, manufacturing units, telecom, retail, health, hospitality, education and commercial sector are some of the new trends in the industry. For example, we had recently powered Wal-Mart's Easy Day retail chain and installed a 3-phase inverter system with multiple controlled output where the distribution of the load was based on the priority or criticality of the application, thereby reducing the running cost of the system by 30 per cent.
Going forward, UPS and inverters will emerge as an economical and green alternative to generators.
For the future, we envision a leading role of alternative energy such as Wind and Solar for power generation. Solar rural electrification is a trend which is rapidly catching up with corporates, government bodies, etc.
What is the overall market size? What is your market share?
The Enterprise UPS market is Rs.4,000 crore.
With contribution break-up: Top Brands - 60%, Local Brands - 40% and Small UPS below 5KVA - approx. Rs.1,000 -Rs.1,200 crore.
The estimated market size in the Home Inverter (1-3KVA) Segment is approx. Rs.8,000 crore.
The size of the inverter market in 2010-11 (electronics excluding battery) is approx. Rs.1,600 crore and battery is Rs.6,400 crore.
In the inverter and battery category, contribution of top three brands is approximately Rs.2,500 crore, with local brands and grey market - Rs.5,500 crore.
What is your product range to cater to this market?
Su-Kam deals in Customized Power-backup solutions for big industries, manufacturing units, telecom, retail, health, hospitality, education and commercial sector. These are some of the sector-related power systems which Su-Kam deals in. We have products ranging from a pocket size 100 VA Inverter to a 500 KVA inverter all at an affordable price for the end-consumer. 
What is the Partner's role in the deployment of products and services?
Our partners help us in capturing impressive sales figures and also in providing after-sales service to customers. 
What kind of margins / benefits do partners get? What are their pain points?
There are a range of benefits and loyalty programmes for our channel partners. Our partners are offered special privileges like: we initiated the unique concept of web-based partnership programme "Club 100" for channel partners in the financial year starting from April 2010. Su-Kam hosted a website to gather all the information and it is the first level interface between the organization and beneficiaries. This e-interface brings each and every channel partner across the country to the organization. 
Club 100 is a community of premium channel partners whose offtake comprises of a major part of our turnover. The concept was initiated with the purpose of giving special privileges and benefits to those who are a part of this Club. The initial selection was done through a formula specially devised for this purpose and took into consideration - the turnover done by the partner, his creditworthiness, his standing in the market and also market penetration.   
They are also the first ones to gain information about the new innovations taking place in Su-Kam labs and in the R&D process. Su-Kam has testing units where the new products are tested. Some of the privileged partners are allowed to go through the whole testing procedure. Also, the newest products are given for trial to such partners to gain their understanding of the product and their suggestions and views on how to make the product better. 
We also help and support our partners in branding and promotional activities. We provide them with cat alogues and brochures regarding the products. We give equal opportunity to our partners by supporting them in exhibitions and seminars. 
Which are the popular products selling more in the market?
Most products from the Su-Kam stable are popular among the masses as they are technologically advanced and cater to each and every need of the customer. The UPS, battery and inverter range have maximum sales. Newer products from Su-Kam also take less time to register in the minds of the customers and hence the same is reflected in the sales and the popularity. The 600 VA and 800 VA inverters are popular.
What are the opportunities for channel partners?
There is immense opportunity for our channel partners as Su-Kam is a company which keeps coming up with new products and new innovations. We have a whole diverse range of solar products. We have products like inverter plus generator which is the first-of-its-kind product from Su-Kam. With a view to catering to the rural areas we have suitable products like Pico and solar home lighting system. We keep increasing our product line and expanding our product portfolio. We are technologically very sound. As a result of all this, our partners gain a lot from our constant efforts for innovation as it helps them equally to keep up with the customer demands and the growing needs by associating themselves with a company like ours.  
How do you provide after-sales support?
The company ensures that all our customers who have invested their money and believe in our products should get the best of quality which Su-Kam offers. Every customer should go for our products as we have superior quality, the best after-sales service and our products are technologically well advanced. The team at Su-Kam often starts off with an idea that seems impossible at first. They innovate, experiment, take risks and make sure to factor in consumer needs. And end up with yet another winning product. The employees at Su-Kam are imbued with a passion for innovation, a commitment to technology and a deep understanding of the consumer's needs and aspirations.
After-sales support and a good team dedicated for that purpose is very vital and important for us. Su-Kam relies heavily on customer satisfaction as it is very necessary and essential for us to be aware of the customer's feedback and opinions. We have more than 200 service centres and more than 10,000 dealers in India. We invest a lot on training servicemen. We have an extensive training programme regarding servicing a product as well as product training programmes for our service engineers as well as the channel partner's servicemen.
What is the evolution path in the future?
Solar products are going to come up more in the future. Su-Kam is also largely focussing on the Solar products as it is a growing market and has lots to offer. We are working towards expanding our solar product range and are looking to become leaders in the solar product category. Generator compatible inverters are the latest products in the power back-up industry as they not only save power, reduce pollution but also cut down on the diesel cost. These inverters also provide relief during switchover time from main power supply to generators. 
The inverter/generator combination will be quite beneficial for the hotel industry also as it will facilitate power saving up to 50 per cent. These unique inverters have also been customized for Telecom BTS sites providing advanced and cost-effective solution for all telecom applications. 
See What's Next in Tech With the Fast Forward Newsletter
Nothing to see here - yet
When they Tweet, their Tweets will show up here.