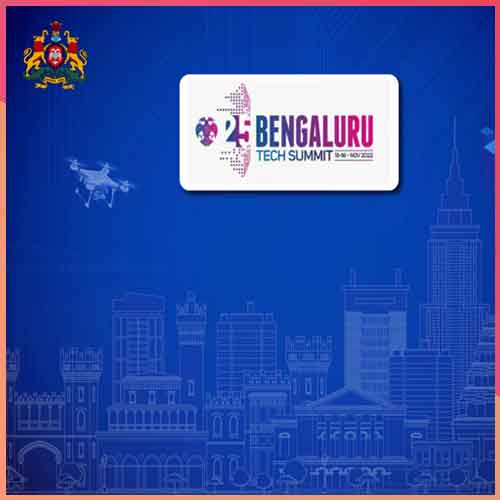 The Department of Electronics, IT, BT and S & T, Government of Karnataka launched 22 innovative products/solutions by startups on the 2nd day of the 25th edition of Bengaluru Tech Summit (BTS) 2022, Palace Grounds, Bengaluru.
The innovative products/solutions developed are multi-disciplinary and are sector- agnostic ranging from IT/ITeS, Agri-Tech, Med-Tech, Health care, Clean-Tech, Artificial Intelligence (AI), Edu-Tech, Block chain, IoT, Cybersecurity, EV and ESDM. The products/ solutions include Electronic based devices using Artificial Intelligence (AI) and IoT (Internet of Things) for health care, charging of EVs, experience seamless billing solutions, PPE, Solid Waste Management, Effluent Water Treatment, Apps to prevent fraudulent transactions, authenticate fabric, real time AR/VR experience and Deep Tech based platforms for Quality Assessment.
Majority of the startups are incubated in Government of Karnataka supported incubators such as K-tech Innovation Hubs, Centres of Excellence (CoEs) and Technology Business Incubators (TBIs) anchored by C-CAMP, IISc, associations like NASSCOM and IAMAI and have developed these innovative products/solutions using the state of art facilities available at the K-tech Innovation Hubs/ CoEs. Some startups are also recipient of the Government's Idea2PoC (Proof of Concept) ELEVATE Grant- in-aid seed funding program for startups. Out of the 22 startups, 04 are Women-led startups.
The products are launched by Dr. C.N. Ashwath Narayan, Hon'ble Minister for Electronics, IT, BT, S&T, Higher Education, Skill Development, Entrepreneurship and Livelihood, Government of Karnataka.
List of innovative products/solutions launched:
Sl.

No.

Name of the Startup

 

Sector

 

Product Description

1

Faunatech Solutions

 

 

Agri-Tech

Fauna - A novel smartphone-based handheld diagnostics platform for early detection of critical diseases, monitoring cattle health and screening

milk quality at the farm level, and reducing antibiotic usage.

2

CareNX Innovations Pvt. Ltd.

 

Med-Tech

Fetosense - which is a smartphone enabled Fetal Heart Rate (FHR) monitoring device to perform Non-stress Test (NST) & CardioTocoGraphy

(CTG) Test - to early identify prematurity.
3

Nanosafe Solutions Pvt. Ltd.

Health Care

NSafe mask (patent filed), India's first copper treated antimicrobial mask, reusable for 50 washes, with filtration standards certified by SITRA. RubSafe sanitising lotion and AqCure water bottle developed by us are the first of its kind active copper imbibed prolonged protection

sanitising lotion and antimicrobial water bottles respectively.

4

Samasti Health Technologies Pvt. Ltd.

 

 

Med-Tech

Svasthya is a remote clinical decision assistance platform provides health equity by connecting the right doctors to the patients for timely medical

intervention, clinical assessment, triage and care co-ordination with referal pathways.

5

Tellus habitat Pvt. Ltd.

 

 

Clean-Tech

Tellus's novel technology and proprietary smart automation, can produce consistent health safe effluent water quality with 5x lesser OPEX and

maintenance cost than conventional treatment technologies.

6

Aikenist Technologies

Pvt. Ltd.

Med-Tech

Aikenist provides Innovative and Patented QuickScan technology which reduces MRI

scanning time by half using AI software.

7

RootsGoods Pvt. Ltd.

 

Agri-Tech

An AI Deep tech based quality Assessment

platform of agricultural crops post-harvest presently focusing on maize.

8

Labezy Medtech Pvt. Ltd.

 

Med-Tech

Cancer screening device will be used as tool for

screening breast cancer through its trans illumination method.

9

Drona Automations

 

 

Clean-Tech

Horizontal Sewer Pipe Cleaning Robot (HSPCR – 1) can travel inside pipe sizes ranging from 3 inches to 5 inches and clean them. This Robot can also be used for descaling and sludge

removal and inspection of sewer pipes.

10

Sivi AI

 

AI

Sivi.ai - is world's first AI that automatically turns ideas into visual designs for campaigns, ads, social posts, website content, and more. Sivi

generates editable designs within 2 minutes.

11

Bohni Tech Pvt. Ltd.

 

 

IT/ITeS

Boni App is an app where businesses like street vendors can easily register, add their product and services and begin to receive orders from customers as well as market themselves better to

customers.

12

Perceived Design Pvt. Ltd.

Edu-Tech

Perceiv.io (3D-AR-VR) enables teachers to

create XR Content XR Lessons and XR Assessments in a few clicks.

13

Karpine Technologies

Pvt. Ltd.

Blockchain/ IoT

Self-Checkout: Enhance customer experience in the store using an automated 1-click self-

checkout.
14

Napid Cybersec Pvt. Ltd.

 

 

 

 

 

Cybersecurity

1. napID Zero-Factor Authenticator

napID Fraud Filter Layer enables the login form only for authorized users, hence the stolen password becomes useless.

2. napID MFA

Secure your MFA needs with napID Zero-Factor Authentication to authenticate the authorized users instead of keystrokes. With napID MFA, passwords will be the second factor.

3. napID Passwordless Login

Simply login with the user id without any

password by authenticating the authorized users instead of alphabets and numbers.

15

Kosha Design Labs

IoT

Coin cell based IoT device which can measure productivity of handlooms.

16

Marcn Technologies (Flextron EV)

 

EV

FLEXTRON 3.3Kw IoT-enabled EV charge point. It is capable of charging 2,3 and 4-wheeler EVs.

17

Dosetap

 

 

IoT

DoseTap is a smart pill box which connects to a mobile application via Bluetooth. It contains a housing to store medications for the whole week as per prescribed dosage time and contains an

integrated circuit board with sensors to track patient usage.

18

Mialo

 

 

IoT

Sensilance (sense + surveillance), enables computers with human-like abilities of hearing, seeing, reasoning, and learning by transforming pixel and sensor data from videos, images,

documents and other sources into actionable insights.

19

ibloom HealthTech

 

IoT

iBloom is an IoT device for a prognosis heart attack at home using doctor-assisted Ai and drone delivery of first aid AED defibrillator devices

at home.

20

Agnit Semiconductors Pvt. Ltd.

 

 

ESDM

Gallium Nitride semiconductor components enable radio-frequency and power electronic circuits in diverse applications such as 5G base- stations, next-generation radars and efficient

power converters for fast charging of EVs.

21

Theranautilus Pvt. Ltd.

 

 

Med-Tech

Theradrive and Magnetic nanobots - reaching the entire depths within the dentinal tissues to ensure a thorough cleaning by targeting antibiotic resistant (AMR) bacterial colonies using heat-

based method that are out of reach with the current state of the art tools.

22

INFAB

Semiconductor Pvt. Ltd.

 

ESDM

Multi Project Wafer (MPW) Platform provides customers with cost-effective access to MEMS

prototyping and a seamless transition into volume manufacturing.

 
See What's Next in Tech With the Fast Forward Newsletter
Nothing to see here - yet
When they Tweet, their Tweets will show up here.