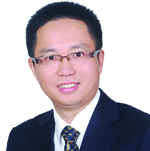 John He
CEO, Shenzhen DONJIN Communication Technology Co. Ltd.
DONJIN, the leader in global multimedia communication platform technology, is certainly an established name in the VAS space. John He, CEO, Shenzhen DONJIN Communication Technology Co. Ltd. speaks with VARINDIA on a recent visit to India for more insights into the company's growing business. 
How does DONJIN's solution help VAS players to improve their RoI?
DONJIN arguably provides the best price to performance ratio for the VAS players and our platform is very flexible in the sense that it can offer all the VAS services on single platform which is Keygoe. So you can start with a simple application such as OBD today and some time in future you can migrate to video seamlessly on the same hardware platform . This I believe is the biggest advantage of DONJIN since it offers investment protection to the VAS players. With the best price/performance ratio DONJIN helps in reducing the ROI for the VAS players.
Tell us about your Go-to-market strategy. Is it different from that being followed in other countries. 
India is very different country as compared to any other. The Indian market is highly competitive and challenging and there are lots of players in here. However DONJIN offers the best price /performance ratio and our strategy is that we design the solutions based on the customer's expectations on the ROI. We work very closely with the customers and helping them develop newer applications on our platform and also help them with post sales support which our Customer's value.
What is the current market share of your company? 
The market share differs from country to country but on an overall market share I can very comfortably say that DONJIN is one of top three CTI vendors.
How has your company performed with respect to your competitors in the last fiscal? 
In the first two Qtrs we have managed to grow by 40% as compared to last year and by the end of this fiscal we should have 100% growth over the last year.
What are your plans for the present fiscal? 
DONJIN has been in India for the last five years and India market is highly competitive and challenging. There has been a continuous evolution in DONJIN products over the last 5 years specifically for India market and current focus for DONJIN is in the MSVAS platform and IP platform for the India market.
Tell us about the MSVAS platform introduced by DONJIN last year.
MSVAS gateway is a signaling product which supports upto MAP layer of the SS7 protocol. With these a lot of Data applications likes SMSes, USSD gateway can be built and the time to market is also very short since we offer a scripting environment which helps in reducing the time required to develop solutions . Again as I mentioned earlier it works on the Keygoe platform so the integration with media is hardly an issue.
Which are the other products in the pipeline which the company plans to introduce in near future?
As already mentioned above the current plans and focus area will continue to be with our MSVAS gateway and IP platform. 
See What's Next in Tech With the Fast Forward Newsletter
Nothing to see here - yet
When they Tweet, their Tweets will show up here.