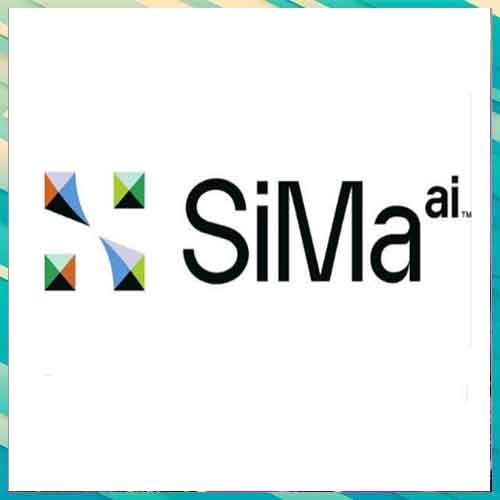 SiMa.ai has announced it is experiencing significant company-wide momentum including a rapid rise in customer demand, new innovation accolades, 30% year-over-year employee growth, the introduction of a new partner ecosystem, and new venture funding for a total of $200M raised to date. Importantly, following the initial release of SiMa's Machine Learning System on a Chip (MLSoC) silicon, SiMa.ai MLSoC boards and Palette software in January, SiMa.ai is fulfilling its commitment to customers by achieving full characterization and testing for production grade releases of its silicon, boards and software functionality only five months later. 
SiMa.ai plans to utilize this venture funding towards expanding its team and go-to-market strategy across key markets globally, in addition to fueling investments in R&D. In addition to the global expansion, the company has identified India as an important market as part of its growth strategy. 
Founder and CEO Krishna Rangasayee said, "The unanimous uptick we are seeing in customer, partner and investor demand continues to demonstrate we are on target with our timing and execution against our founding vision to provide effortless ML that runs any model or pipeline, is 10x more performant, with ease at the push of a button. The legacy one-size-fits-all chip approach, forcing the same technology powering the data center into 'smart' cars, drones, and advanced robotics has become a barrier to innovation. SiMa.ai's purpose-built MLSoC is ready to unleash the edge. Compute is increasingly shifting towards embedded edge due to the crucial factors of speed, criticality, security, privacy and cost. By bringing computation closer to the data source, embedded edge solutions offer faster processing, enhanced criticality for real-time applications, improved security and privacy measures, and cost-effective operations, driving the widespread adoption of this paradigm." 
Vivek Tyagi, Advisor to IESA Board says, "In the wake of rapid advancements in AI and machine learning, we firmly believe that this decade will witness revolution in the edge market. Emerging as a foundational pillar of Industry 4.0, edge computing is reshaping the business landscape, driving unprecedented efficiency, and fueling disruptive innovation. At IESA, we believe in the power of technology to drive innovation and shape the future. We are excited to host today's tech demo event in collaboration with SiMa.ai, showcasing their groundbreaking advancements in edge computing. This event serves as a platform to witness the transformative potential of the brand and its solutions, as they pave the way for a new era of intelligent systems." 
A recent joint report by Counterpoint Research and the India Electronics & Semiconductor Association (IESA) highlights that the country's semiconductor market is projected to grow to $64 billion by 2026. This growth is driven by increasing demand from sectors such as consumer electronics, telecom, and IT hardware, indicating a significant opportunity for the Indian semiconductor industry. However, this transition poses challenges for the semiconductor market in India. Legacy technologies and outdated compute paradigms have become bottlenecks to innovation and hinder the industry's ability to fully capitalize on the growing demand. Addressing this bottleneck, SiMa is the only machine learning company with a purpose-built ML hardware and software platform shipping today that leads the market in edge ML power efficiency as validated by the peer reviewed MLPerf organization. The SiMa purpose-built ML platform is needed for any machine that exists between the smartphone and data center – a new form factor where hardware and software are optimized to increase performance and save energy. 
The SiMa.ai team is well capitalized to push the boundaries of what is possible with computer vision and machine learning while continuing to extend its lead with accelerated adoption of its innovative MLSoC Platform in the rapidly developing specialized AI chip market. 
See What's Next in Tech With the Fast Forward Newsletter
Nothing to see here - yet
When they Tweet, their Tweets will show up here.