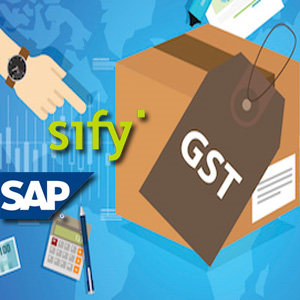 To help businesses leverage this growth opportunity given rise by GST and implement the new structure with ease, Sify has launched "GST-in-a-Box", a speedy GST implementation plan, across the cities of Delhi, Mumbai and Chennai in India, in partnership with SAP. "GST-in-a-Box" is available at all Sify-SAP GST Solution Centers.
"SAP, along with our channel partner Sify, is committed towards enabling businesses, including MSMEs to seamlessly adapt to the new tax regime," said Avinash Purwar, Vice- President, Global Partner Operations, SAP Indian Subcontinent. "We foresee growth opportunities that GST will offer for business of all sizes and SAP's 'GST-in-a-box' solution, will equip MSMEs across India with the technology needed to thrive in this digital economy."
Sify offers select modules of SAP S/4HANA along with GST modules that is guaranteed to get businesses GST-compliant in under-12 weeks. The "GST-in-a-Box" solution offers SAP Licences, SAP S/4 Hana Implementation in a templatized format and SAP HANA Cloud Infrastructure hosted out of Sify's 6 Data Centers.
"Sify is uniquely positioned to support its customers with an end-to-end solution stack, thereby taking complete responsibility of their GST deployment. This allows companies to focus on streamlining their business processes to take advantage of the new GST regime, while Sify ensures readiness of the back-end systems to address these changes," said Kaushik Mitra, President and Business Head, Application Integration Services, Sify Technologies.
These Solution Centers were functional from June in Delhi, Mumbai and Chennai and in July, will expand to Bangalore, Hyderabad, Pune, Ahmedabad and Kolkata. They will provide a complete experience of the GST implementation process and specifically relate to Sify's expertise in making companies GST-ready, leveraging its IT and infrastructure capabilities.
Tags: Sify, SAP, GST-in-a-Box, gst in a box, GST implementation plan, GST Solution Centers, Sify SAP GST Solution Centers, Avinash Purwar sap india, SAP Indian Subcontinent, SAP HANA Cloud
See What's Next in Tech With the Fast Forward Newsletter
Nothing to see here - yet
When they Tweet, their Tweets will show up here.