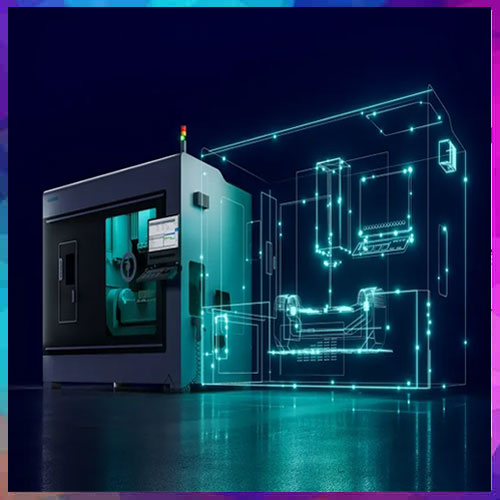 With an innovative and class leading portfolio of hardware and software solutions to bring the real and the virtual worlds together, Siemens announced an expanded portfolio for the machine tool industry. This will enable manufacturers and users of machine tools to design, realize and optimize machines and components faster, react flexibly to market demands and enhance productivity across various user industries. These offerings will be showcased at IMTEX 2023, under the motto "Accelerate digitalization for machine tool manufacturing".
Achim Peltz, CEO of Motion Control, Digital Industries, Siemens AG, said, "The machine tool industry in India can harness the enormous potential of production data for designing, realizing and optimizing operations to achieve scale and profitability. Our portfolio for the Machine Tool Industry enables flexible and sustainable action both in the construction of machines and in their application."
SINUMERIK One – the digital native CNC
With SINUMERIK One, Siemens offers the technology to easily create and work with digital twins of machine tools. With its integrated SIMATIC S7-1500F PLC, it offers up to 10 times faster PLC cycle times. This helps SINUMERIK One to be fully integrated into the TIA Portal engineering framework, enabling standardization of all engineering tasks for machine builders and users. Integrated functions like virtual commissioning and realistic process simulation opens up new possibilities for machine manufacturers & users alike. This significantly reduces the product development phase, time-to-market & even production cycle times. Today over 70% of Indian OEMs have already adopted SINUMERIK One to accelerate their digital transformation journey.
Industrializing Additive Manufacturing
Siemens is the only service provider of integrated software and automation solutions under one roof for industrial use of Additive Manufacturing (AM). This enables the creation, manufacturing and use of additive applications, including high-volume production which covers the entire end-to-end value chain, from industrial AM users as well as AM machine builders.
Siemens Xcelerator for digital transformation
Siemens announced the availability of solutions tailor-made for the Machine Tool Industry in India as part of the Siemens Xcelerator, the open digital business platform. These solutions meet the requirements of companies in areas such as machine building, fabricated metals, aerospace, vehicle manufacturing, electronics, power, energy manufacturing and medical equipment. Siemens Xcelerator for machine tools, includes selected portfolio of IoT-enabled hardware, software, as well as a marketplace.
The Siemens Xcelerator marketplace has applications using Industrial Edge technology like Protect MyMachine, Analyze MyWorkpiece and others which enable unparalleled safety and workpiece quality. Various MindSphere applications like Manage MyMachines and Analyze MyPerformance/OEE are also available on the marketplace that provide intelligent resource management across the shopfloor. The market place has additional solutions that help in optimizing the process workflows in shopfloor, manage tools efficiently and increase productivity.
Some of these applications offer broader connectivity even for CNC machines that are not equipped with SINUMERIK. This means that nothing stands in the way of a shop floor-wide connection of machines. With these offerings, machine builders and users can ensure they can build a machine or component faster, better and more efficiently while enhancing productivity.
See What's Next in Tech With the Fast Forward Newsletter
Nothing to see here - yet
When they Tweet, their Tweets will show up here.