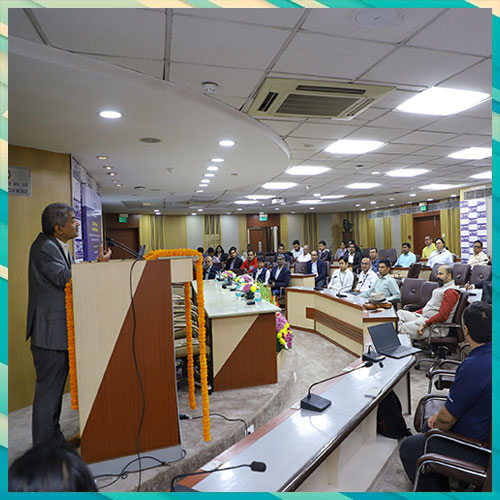 Data Security Council of India's National CoE program in collaboration with C-DAC (Centre for Development of Advanced Computing) and Infopercept, launched an acceleration program dedicated to SCADA/OT Security technology development. It was launched by Dr. Sanjay Bahl, DG, CERT-in; Mr. Vinayak Godse, CEO, DSCI; and Dr. SD Sudarsan, Executive Director, C-DAC, Bangalore. The program witnessed support from security leaders and experts from the industry, government, and PSU's such as MeitY, ONGC, HPCL, BPCL PwC, POSOCO, BSES Rajdhani & Intel.
'SCADA/OT Security Acceleration Program' is a niche effort to develop necessary technology capabilities in SCADA/OT Security to bring up expertise from the industry, Government, PSU, and academia to collaborate and share their use cases and join hands in co-creation, productizing innovative solutions. This is a novel initiative that has not yet been undertaken across the country which may lead to a new scope of industrialization and give rise to innovative solutions to tackle upcoming threat vectors.
Several programs such as webinars, talk shows, call for ideas, ResiliencyThon (Hackathon), whitepapers, POCs deployment, and training will be conducted as part of the initiative. The area of OT/SCADA Cyber Security is seeing an increased number of use cases necessitating research and innovation intervention. Today, several start-ups and researchers are working in this area bringing together users from critical sectors. A dedicated portal for the acceleration program has also been released: https://www.n-coe.in/scada-ot/
Launching the initiative, Dr. Sanjay Bahl, DG, CERT-In, said, "SCADA/OT Cyber Security is significant for the country's infrastructure, like aerospace, power, oil & gas, food processing, and multiple other industries. The threat vectors in the cyberworld can weaponize OT environments and put nations critical infrastructure at risk. The work being undertaken by various Govt. and Industry bodies in SCADA/OT is towards building robust and resilient SCADA Cyber security solutions and services. The efforts of DSCI-NCoE in nurturing innovative minds to solve key problems of SCADA/OT Security is appreciated."
Dr. S D Sudarsan, Executive Director, C-DAC, said, "Real-time and non-real-time issues during IT/OT integration, presence of multi-generation hardware/software, and diversity of priority between IT–OT are key focus areas for strategic sectors in terms of confidentiality, availability, integrity, privacy, and safety. He also highlighted the need to collaborate and co-create across the industry, academia, research, government as well as professional organizations such as DSCI."
Vinayak Godse, CEO, DSCI, said, "There is an urgent need to attract engineering and innovative minds to solve problems in nationally important areas such as SCADA/OT Security. The acceleration program is devised to seek contribution from organizations working in critical sectors in creating SCADA/OT security technologies capabilities and enterprise-ready products with the help of start-ups. With the support from MeitY and CERT-In, and partnership with C-DAC and Infopercept, and other industry stakeholders committed to work in the area, the concerted efforts of this acceleration program will see emergence of new technology start-ups in this field."
See What's Next in Tech With the Fast Forward Newsletter
Nothing to see here - yet
When they Tweet, their Tweets will show up here.