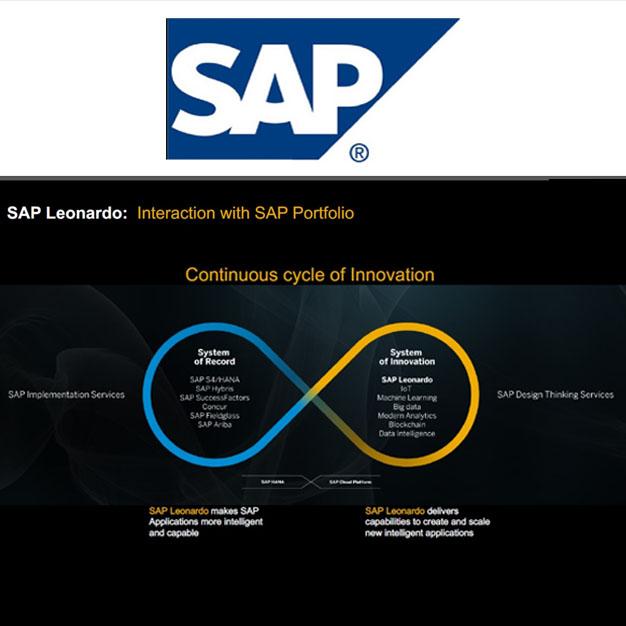 SAP SE has announced the creation of a digital ecosystem with the SAP Leonardo portfolio exclusively for India. To fuel the trillion-dollar digital economy of India by 2025, SAP is collaborating with technology powerhouses to extend a holistic innovation system and initiatives across industries. The announcement was made at the SAP Leonardo Executive Summit held in Mumbai.
SAP Leonardo is a digital innovation system that brings together machine learning, IoT, blockchain, analytics and big data on SAP Cloud Platform using design thinking services. With this offering, SAP will enable companies to rapidly innovate and embed digital innovation into all their applications and business processes.
"Technology is transforming at a far more rapid pace than ever and organizations can no longer afford to wait and watch how the digital technology innovations will change things – they need to take control of doing digital now. Digital companies are achieving higher revenue and profitability, while simultaneously keeping costs low, achieving significant business value. SAP recognizes the urgency to fast track digitization and with SAP Leonardo, we aim to help our customers drive business transformation," said Deb Deep Sengupta, President & Managing Director, SAP India Subcontinent.
Building Intelligent Ecosystem of Partners to Power DIGITAL Innovation:
SAP India has built a consortium of industry and solution partners to power India Inc. that will deliver real business impact in the digital economy. The partners are spread across six focus areas such as Connected Products, Connected Assets, Connected Fleet, Connected Infrastructure, Connected Markets and Connected People. Through this ecosystem, SAP will deliver innovation capabilities and services that integrate with core business applications so that customers can seamlessly bridge between operating and innovating.
Announcing SAP IoT Connect 365
Connectivity among people, machines, and things is increasing exponentially. Enabling this connect among billions of people and things represents tremendous opportunity for mobile network operators. SAP IoT Connect 365 is a managed, cloud-based service that simplifies IoT connectivity by enabling them to connect with enterprise, governments and people to leverage technologies that can drive out supply chain inefficiencies and sub-optimal asset utilization. With the SAP Digital Interconnect group (formerly SAP Mobile Services) mobile network operators can now capitalize on the growing IoT market with speed, reliability, and ease. SAP IoT Connect 365 delivers choice and flexibility to enterprises, laying the foundation for a well-connected, cost-efficient, and secure environment.
See What's Next in Tech With the Fast Forward Newsletter
Nothing to see here - yet
When they Tweet, their Tweets will show up here.