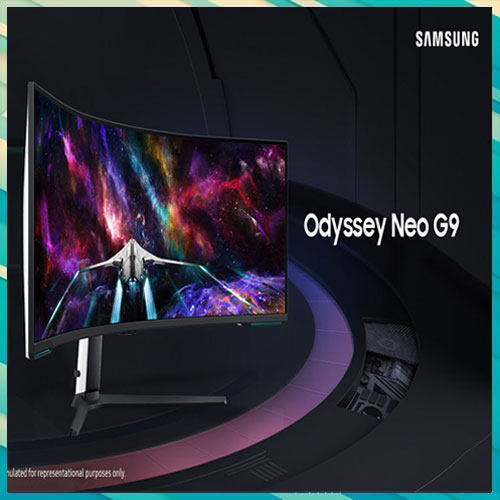 Samsung brf3 unveiled the Odyssey Neo G9 Monitor featuring the World's First Dual UHD display along with Quantum Matrix Technology for higher picture quality. The Odyssey Neo G9 is the latest addition to the Odyssey series and lets gamers see new levels of detail with an unparalleled field of view. The monitor delivers 7680×2160 resolution and a 32:9 aspect ratio in one screen for the first time. 
Superior Form factor 
Odyssey Neo G9 is equipped with UHD Screen which means that the display is as wide as two UHD monitors providing incredibly detailed images and a wide field of view. 
The monitor supports a high density of 140PPI (Pixels per inch) making the images sharper and more detailed. The height of the monitor is the same as a 32-inch Monitor, with a 35% larger active area compared to a 49-inch monitor. The screen offers a 32:9 ratio which allows users to see more action with a wide field of view. 1000R curved screen enhances depth perceptions and minimizes peripheral distractions delivering focused and immersive gameplay.
Unmatched Picture quality 
Equipped with Quantum Matrix Technology and Quantum Mini-LED that creates controlled brightness and perfect contrast for high-definition picture quality, Odyssey Neo G9 is the pinnacle of video visuals. The monitor is housed with a VESA Display HDR 1000 which makes every scene vivid and life-like providing extremely accurate colour and contrast reproduction. Peak brightness of 1000 nits and contrast ratio of 1000000:1 enables enhanced colour expression and depth in the visuals. The screen comes with a Matte Display which absorbs both artificial and natural light enabling the gamers to focus on the battles without being disturbed by reflection of light. sAGAR (Super Anti-Glare, Anti–Reflection) film on the Odyssey Neo G9 makes it glare free.
Unrivaled Gaming performance 
The monitor comes with a faster refresh rate of 240Hz to eliminate any lag or motion blur, delivering ultra-smooth gameplay. Odyssey Neo G9 is optimized with a 1ms response time enabling fast-paced action with real-world accuracy. With AMD FreeSync Premium Pro, users won't have to worry about choppy visuals or screen tearing during intense gaming battles. It also enables low latency in not only SDR but also HDR, supporting meticulous color and luminance certification. 
Versatile Usability 
In terms of connectivity, the new Odyssey Neo G9 is power packed with DisplayPort 2.1, HDMI 2.1, and USB Hub to enable users to connect their favorite devices without any hassle. The PBP (picture-by-picture) and PIP (picture-in-picture) features demonstrate how users can make the best use of the wide screen instead of setting up multiple monitors. The monitor comes with Auto Source Switch+. This feature detects when connected devices that are turned on and instantly switches to the new source signal removing the hassle of manually switching sources every time. 
Impeccable Design 
The design of the new monitor stands out. The monitor comes with an ergonomic stand that allows users to adjust the monitor's height or tilt to find the perfect angle. The slim design of the monitor is packed with Core Lighting+ & CoreSync providing an immersive ambiance to the gaming environment. The back panel of the monitor mimics the game scenes and changes according to the colours on the screen. 
"With Odyssey Neo G9, we are introducing the future of gaming with state-of-the-art innovations. Industry first features such as Dual UHD display and new levels of speed through 240Hz refresh rate enable the Odyssey Neo G9 to make gaming a more lifelike experience for enthusiasts. Powered with Quantum Matrix Technology, the monitor offers an unrivaled visual experience," said Puneet Sethi, Vice President, Consumer Electronics Enterprise Business, Samsung India. 
Odyssey Neo G9 monitor comes in white color in India at a price of INR 225000.
See What's Next in Tech With the Fast Forward Newsletter
Nothing to see here - yet
When they Tweet, their Tweets will show up here.