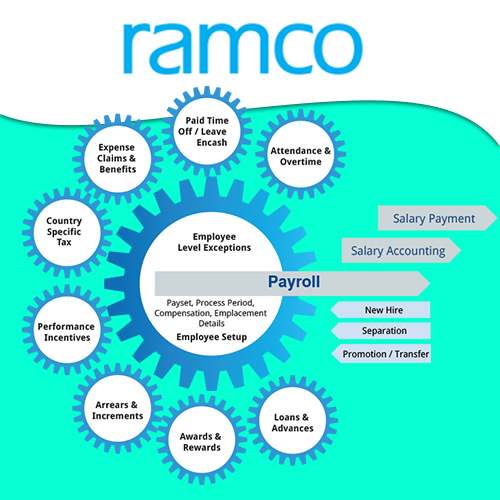 Ramco Systems has won a multimillion dollar Payroll Transformation order from one of the FTSE 100 constituent and British Multinational Banking & Financial Services Company. Ramco will enable the BFSI major in consolidating its multi-country Payroll on a unified platform and provide Managed Payroll Services for its associates spread across 14 countries.
With Ramco's Global Payroll platform, the BFSI major will derive benefits of a unified payroll processing system which will effectively and efficiently handle operations of 8,500+ employees across Asia, covering Vietnam, Brunei, Bangladesh, Sri Lanka and Nepal; and the Middle East covering Iraq, Bahrain, Oman, Qatar, Saudi Arabia, Egypt, Lebanon, Jordan and UAE in Phase 1. The scope includes providing Payroll, Taxes, Time & Attendance, Leave Management, Loans and Reimbursements and Self Service.
Commenting on the addition of yet another prestigious European brand to its clientele, Virender Aggarwal, CEO, Ramco Systems, said, "As a Product company, we have placed utmost thrust towards Innovation and Usability in our offering. From Chatbots for employee self-service to Robotic Process Automation which drives productivity and performance improvement; the Payroll market has witnessed multiple innovations being rolled out. Global organizations with a dispersed workforce across geographies find the combination of Platform with Services a unique differentiator as it ensures their investments are secured for both current as well as future needs."
 
Complete with chatbots, simplified User Experience and an intelligent In-memory based engine which identifies and resolves errors, organizations can deploy Ramco HCM on-cloud, on premise or leverage as a managed service. The multi-tenant architecture with embedded intelligence and device agnostics features now serves more than 450 customers worldwide. With innovative concepts of Haptic Design, Context-sensitive Pop-ups, Facial Recognition based Attendance and Chatbots to carry out self-service, Ramco has been setting the benchmark for Innovation in this segment. With statutory compliance across 40+ countries covering ANZ, Asia (including Japan and China), Middle-East and Africa, Ramco's Global Payroll is available in English, Japanese, Mandarin, Bahasa, Thai, Malay, andArabic, among others.
See What's Next in Tech With the Fast Forward Newsletter
Nothing to see here - yet
When they Tweet, their Tweets will show up here.