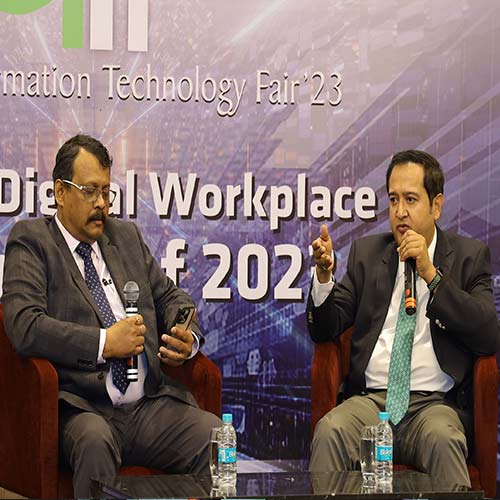 Fire Side Chat With Priyadarshi Nanu Pany, CEO - CSM Technologies and Dr. Deepak Kumar Sahu, Editor-in-chief - Varindia & Group Publications
"The biggest learning from the pandemic regarding the workplace is the paradigm shift that we have worked is physical and digital has become Phygital. It is a new word that has come into place. So the Phygital world has completely changed the way we probably used to work. If I had to go back to a time probably 100 years back when work, workers and the workplace had to be in the same place, it all started probably after World War II. So we have been following it for many years and when we started our industry we never thought that people could work from home and anywhere. All these things actually started with the pandemic.
The other part of the change that we have seen is the gig workforce which is coming in place. We all know that the gig economy is growing very rapidly. That is the shift in the way things happened in the past. NITI Ayog has come up with an astonishing number in India where everybody wants to have a secured job wherein many people are actually cropping out and becoming freelancers. Today, we have 10 million people who are from the freelancing community and NITI Ayog predicts that by 2027 it will become around 50 million people who will be working in this gig economy. So we all need to embrace and keep up with the time. I think this Phygital has completely changed the way we work.
In Phygital environment, technology comes first. Apart from technology, another important area is the channel of communication because we are not meeting people in person and there are a lot of challenges that we need to overcome. So technology and channels of communication are important for Phygital environment. Within technology there are few things that need to be addressed. Many people are working from different places and as per Gartner, 45% of the companies by 2025 will be attacked by cyber frauds and they have to protect themselves. Second, the cloud adoption since the last 10 years has surged. As per market statistics at present the size of the market is $500 billion and by 2027 it is going to touch $1500 billion. That is the kind of change the Phygital world is going to do. We know about the co-working space culture, it will grow really fast. Third is the people because culture will continue with it."  
See What's Next in Tech With the Fast Forward Newsletter
Nothing to see here - yet
When they Tweet, their Tweets will show up here.