Philips accessories launched in India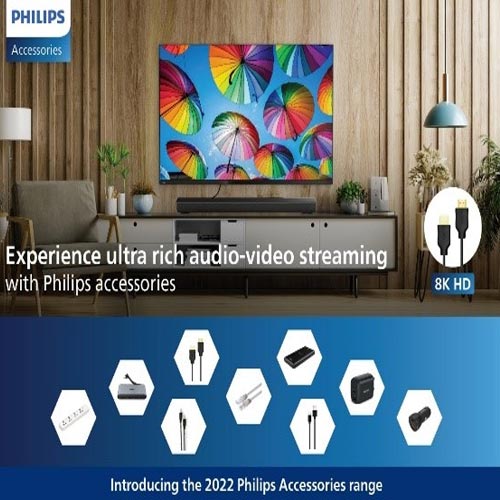 TPV Technology today announced its foray into a new category with the launch of Philips accessories in the Indian market. The product portfolio will offer a wide range of Philips Audio, Video, Mobile and Home Power accessories for its quality conscious and performance driven consumers. There is a huge potential in the Indian market for Mobile and Audio accessories category. This category is growing with 6% - 7% CAGR every year in India and has already reached INR 300+ billion (approx.). Philips accessories is amongst the fastest growing brand in the global markets like Europe, Latin America. With the India launch TPV plans to grow the business further through strategic alliances and a strong presence in both online and offline market.
The new Philips accessories range includes Mobile accessories like Power Bank, Wall Chargers, Car Chargers and Charging cables; AV Accessories like HDMI Cables and Audio cables; Office and Home use Power Extension boards, Network cables and Type C Docking stations. Philips HDMI 2.1 Cables come with 8K resolution support providing an immersive viewing experience to the consumers. The Power Extension boards include the universal socket that can connect all kind of plugs making it the go-to option. The Type C Docking Stations are equipped with premium minimalistic finish and comes with wide range of ports that gives the flexibility of connecting multiple devices. These docking products are a convenient solution apt for travelling professionals and those who need to connect multiple devices on their work desk. The Philips Power Bank comes with Qi Technology wireless charging which is widely being adopted by smartphones and other smart device users.
The product assortment has been curated post mapping the day-to-day requirements of the consumers. Hence these products are suitable for varied set of people ranging from working professionals, students, tech enthusiasts, gamers and home users providing them a hassle-free experience. Further, this range also offers ideal connectivity and streaming solutions for large format discussions, conference calls and meetings rooms to fulfil the requirements of enterprises and firms. The brand is planning to come up with more innovative products within the same category in the near future.
Commenting on the launch, Shailesh Prabhu, Country Head, TPV Technology India Pvt. Ltd. said, "We see a great potential in the Indian Market for our accessories range. After becoming a leading brand in the audio video segment, we believe our entry into this new category will help in elevating the consumer's experience with better connectivity and operability. Backed by the Philips legacy of trust and innovation across sectors, our vision is to offer the best products in the Philips accessories range and become the preferred brand choice of Indian consumers".
The Philips accessories are manufactured as per the global quality standards at the TPV manufacturing facilities across the globe. To cater to the Indian market smoothly, TPV has partnered up with Supertron Electronics as the National Distribution Partner. The products will be available at all leading e-commerce platforms, large format retail stores, Apple Premium Sales Channel and other key retail outlets across India.
Vibhor Agarwal (Director Marketing), Supertron, added that, "Our association with TPV for Philips accessories is one more step towards our commitment to provide quality products to Indian consumers through our strong partner network. We are confident that with our distribution strength coupled with the Philips brand promise of reliable innovation, we will be able to offer the best solutions to our customers. We are excited and look forward to a great journey that can revolutionise the accessories market in the coming future".
Supertron is a leading IT & Telecom distribution & services intermediary in India. From servers to laptops, from components to accessories, Supertron boasts of a wide and deep national network, with a reach of more than 750 cities and more than 11000+ partners across India.