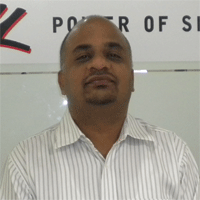 Aravind K S
AVP, Tally Solutions
What kind of trends do you see in the IT industry, especially in the Indian market when it comes to software selling? 
Ours is a shrink-wrapped product and our brand is well established and has a pull factor.
Piracy still prevails in India. How are you handling it and how are you enabling your partners to promote genuine software selling? 
Our firm belief is that by making the product easily available, we can reduce piracy. This is the reason why we have in place a powerful channel structure. The next important aspect is the constant enabling of partners by means of training.
What is the overall market size and what is your market share?
We believe any businesses which are using computers are our potential customers. This stems from our belief that there are two kinds of businesses in the country, one who use Tally and others who would use Tally.
Our estimates are that there are about 8 million SMEs which will use the small-scale ERP solutions and about 2,00,000 businesses (in India) are of a size which can benefit from the implementation of mid-scale to large-scale ERP solutions.  
Presently, we are focussed on addressing the SMEs, including the SME ecosystems of large organizations. Our upcoming technology architectures will suit mid- to large-sized organizations.  We have over 6.5 lakh licensed users, using different versions of our product, of which over 2.6 lakh are on Tally.ERP 9.
Which all market verticals do you cater?
Tally is a highly versatile and scalable (both upward and downward) Business management solution. It is a horizontal application. We have hundreds of users in each vertical.
What is the partner's role in the deployment of your software suites and related services?
We are 100 % indirect in business. We only sell through our partners. They play a very important role in our business. We are little Orthodox and emotional about channel partners and treat them as our family members. In fact our partners are the major source of learning's to us. We understand the market and customers through them. Their success is our success. 
What kind of margins/ benefits do the partners get? What are their pain points?
We have a very transparent margin structure. A partner who can keep the end user happy can make over 25%. Fortunately painpoints like competition, product variations, storage / logistics, stock dumping,ect dosent exist in out business. The only pain point is some of them dosent have time to peacefully sitback and understand the size of opportunity Tally can get to their table. Some of our partners are growing with Tally for over a decade .  Whoever touches Tally, will  always be happier !
Which are the most popular products which are selling more in the market?
Our product Tally.ERP 9 comes in two flavours - Silver (Single user) and Gold (Multi User). Here, user is a term used for a computer system either standalone or used in LAN. This is our highest selling SKU.
Then, we have Shoper 9 Silver & Gold, which is our retail suit and also Tally Development Environment, which is our development kit.
What are the opportunities for channel partners?
Our business model is highly partner centric - and extraordinary amounts of the customer spend are left in their hands. 
Most Tally Integrators are adept at building applications on top of the Tally.ERP platform, i.e. customizing and extending the product to suit the requirements of the different verticals.   
Also, our call centre receives 3,000-plus inbound calls, asking for product support and other services. The onsite service opportunities that come up are passed on to the Tally Service Partners (TSPs).
Then, there is an earning opportunity by offering AMC and training to customers.
How important is the after-sales service support? What kind of service-support network do you have?
Tally.ERP 9 is the most preferred business solution for almost all the small and medium businesses in India and abroad (for Indian businesses). The product is continuously enhanced  to suit the ever-changing needs of the users.  
Yes, after-sales service is very important and we have a sizable network of partners who cater to the market. There are already about 1,100 Tally Service Providers (TSPs), but there is still a demand for more. 
We are in the process of launching a training programme to generate more trained TSPs. 
Do you have partners associated with Tally for providing service exclusively (Here, please share your channel hierarchy). Yes or no, please elaborate.
Yes, we do have service partners and they also sell Tally. We have a two-tier partner model with 160 Master Tally Partners (MTPs). Typically, an MTP recruits, enables and manages a Tally partner. We currently have 16,700 Tally Partners (TPs). We also have a middle level of partner called AMTP who is (typically) a Hardware Distributor, catering to B-class cities.  
Around 1,100 Tally service providers (TSPs) are the service partners who cater to various after-sales service requirements like implementation, data migration, training requirements, for customers. Tally Integrators (TIs) are partners who offer end-to-end solution services in and around the product to customers. We currently have around 150 TIs and this number will grow considerably in the coming months.
We have close-to 800 Tally Academies (TAs), our education partners, who provide "Tally - trained" candidates to the market. 
----------------------------------------------------------------------------------------------------------------------------------------
Anil Singhvi
Director, Mark IT Solutions Pvt Ltd
The market for Tally is huge. We feel that the market covered so far is only the tip of an iceberg. In the coming months/years we foresee a huge opportunity coming our way and a minimum of 3 fold growth looks a definite possibility.
Our association with Tally has been 10 Years old. We are both MTP, TI and TSP. It has been a fantastic, amazing journey. It could not have been better. Tally has ensured that every year is better than the previous and we can look forward for the same in the future. That way Mark as an organisation is at its sweet spot as a Company with the combination Tally as a product and India as a market. We see a market for Tally.ERP 9 in every business in the country  Shopper for the retail businesses and Auditor tool for C.A.'s complete a range of products which more or less caters to the needs of most businesses in  India.
TSPL plays a major role in motivating us from time to time either by way of making us better understand the market and Customer dynamics OR providing us with good business structures and market relevant products and functionality in its products. TSPL also helps us in setting our goal(s) higher by raising the bar. Recently they have also organised to have their Partner's trained on recent management practices at the IIM, Ahmedabad., the premier Management Institute. 
All our products are sold and serviced through our partners only since our pricipals (TSPL) does not undertake any direct sales or service. We provide our partners support in their marketing and support efforts so that they are kept abreast of the latest developments in the products and their businesses are kept current and relevant. Above all, the pricing policy is transparent. The margin of 25% is available on all sales to the end user & 15% on the sales to Partners. 
Tally is dominating the market as we have not come across any real competitor except may be the 'pirated' Tally product. The benefits in doing business with Tally are that had maintained robust growth even during the recent slowdown period and we look forward to more accelerated growth in the future.
------------------------------------------------------------------------------------------------------------------------------------------
From Left to right: 
Riyaz Tamboli and Nevil Sanghvi,  
Directors, Antraweb Technologies Pvt. Ltd.
We have been Tally Partners since July 92, which is a little over 18 years. Though we tried other things in the beginning, since last two and a half years, we are dealing exclusively with Tally. Though we started purely as a sales organization, around 95 till 2000 we were dabbling with small services like AMC, trouble shooting, Training (what a TSP does today). And then we wanted to expand, and we took to solutioning - around this time the Product (Tally) release which happened allowed synchronization, integration and customization. So we started talking to larger organisations with multiple branches, who needed centralized control and MIS. As the capabilities and customizability of the product went up - and as the changing business dynamics got the customers driving us towards integrating the Business operations into Tally.
Our challenge was our limited sales force, to replicate this across the geographies, we had to expand our sales force. Around this time Tally came up with the partner network, we were asked to appoint TPs, and enable them. Now our TP network is our extended sales arm, we can reach out across the country.
We as the Master Tally Partners are actually a Mini Tally (Office) - we play a pivotal role by appointing Tally Partners, who are selling and servicing the End customers. We also provide a whole lot of Value added services in the form of Tally Ad-ons, Vertical solutions & Enterprise solutions.
India as a market is growing, B & C class towns are also investing in Technologies, SMEs have no choice but to computerize - to beat competition. Earlier people were happy with a un-licensed copy of Tally - today their business is depending on Tally (Technology) , so they are going for legal software, they are also enabling their people by training - to get better benefit from technology. Tally.ERP 9 Silver is the most popular product selling in the market. 
Our net margins are 20 - 25%.  On the product sales, it is up to 15% when we sell to partners i.e. TPs and up to 25% from direct sales to end customers and generate 100% revenues from the post sales services offered. Tally has a tremendous brand pull, the recent slowdown actually made businesses scrutinize their operations and accounts closely, they leaned heavily on the software and our business actually grew steadily through the slowdown. Tally being an completely indirect company - our business is secure. Our last years Turnover was Rs. 5 crores, this year with our workforce of 80 we are surely on our path to touching the 12 crore target.
For more contact:
beenish@varindia.com
See What's Next in Tech With the Fast Forward Newsletter
Nothing to see here - yet
When they Tweet, their Tweets will show up here.