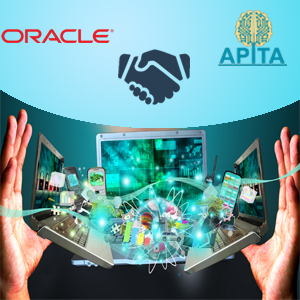 Oracle and Andhra Pradesh Information Technology Academy (APITA) have extended their agreement to integrate Oracle Academy curriculum into the state's educational programs to inspire and prepare the next-generation of technology professionals for successful careers in IT. Oracle Academy curriculum will focus on big data, mobility, cloud computing and the Internet of Things.
As a part of the three-year agreement, Oracle Academy aims to train 375 faculty members in computer science instruction with a goal to reach 10,000 students across 200 polytechnic, engineering and degree colleges in Andhra Pradesh.
Teachers will be instructed through six Oracle Academy courses, including Java Foundation, Java Fundamentals, Java Programming, Database Foundation, Database Design and Programming with SQL, and Programming with PL/SQL. Upon completion, educators will use Oracle Academy infrastructure as part of their classroom curriculum.
"We are happy to further Oracle Academy's work with Andhra Pradesh Information Academy (APITA). There is a growing demand for a highly skilled technology workforce in Andhra Pradesh. APITA has pioneered the state's initiatives in developing skills of its youth to prepare them for the workforce," said Damian Haas, Regional Director, Oracle Academy, Oracle Asia Pacific.
"With APITA's charter of creating readily employable graduates, we are constantly looking at collaborations that support this endeavour. Oracle Academy offers us a very modern and relevant curriculum that can prepare our students for careers in the field of IT. I am looking forward to working with Oracle Academy," said Dr B. Sundar, IFS, CEO – Andhra Pradesh Information Technology Academy
See What's Next in Tech With the Fast Forward Newsletter
Nothing to see here - yet
When they Tweet, their Tweets will show up here.