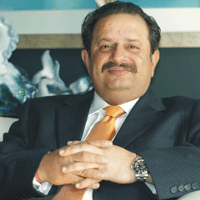 Arun Khanna
Chairman, Olive Telecom

Do tell us something about your brand. When did you enter the handset space?
We entered the handset business in India the same time we announced our operations in this market. To be precise, Olive as a brand was launched in the Indian market on 23rd December, 2009. Since its very inception, its core belief has been to provide high-quality convergence devices to its consumers worldwide, streamlining its efforts to offer simplified and affordable solutions that cater to everyday needs of users. The company has a wide portfolio of products across WCDMA, CDMA, GSM areas with products like EV-DO handsets, Mobile Computing Devices, Advanced data modems and devices for wireless broadband. We have sold over 20 million devices worldwide since our inception in 2006. Recently, Olive, in an alliance with Aircel, announced the first HSPA+ smartphone - the OliveSmart V-S300 in India. We are still a new player here and have considerably a small share of the market, which is eventually going to rise as we make our presence felt.  
How technologically advanced are your handsets and what new features would you be introducing? How many handsets do you have at present?
Technology has always been the essence of our products. It has been our constant endeavour at Olive to create products driven by technology. Our crave for new, innovative technology has resulted in a couple of partnerships that we have forged with some leading telecom operators globally. These strategic partnerships have eventually helped Olive to launch many industry firsts. 
We have introduced many convergence devices like OlivePad, OliveNexus-Pocket Router, OliveGenie-MP3 Modem and Affordable/State-of-the-Art Android Phones. We have a total of 15 handsets and 4 convergence devices at present in our portfolio of offerings to the customer.
What is your current market share today and what kind of a share would you be looking at in the near future?
As mentioned, we currently enjoy 3% value market share and a 2% volume market share. We will aim for 15% value share and 10% volume share in India plus 3% global share by 2013. 
Which are the major geographies in the country where you see your presence today?
India being a strategic market for our business, we are looking at strengthening our presence and operations in more and more number of cities across the country. Since we see a huge potential for our smartphones and also our 3G-enabled devices here, our idea is to introduce new devices every month. 
Would you be looking at venturing out into the global market and tagging yourself as a global brand?
We are already an established global player with a presence in 24 countries. The major ones are Indonesia, Malaysia, the Philippines, South Africa, Nigeria and CIS countries like Russia and Belarus. We have recently introduced the brand in Nepal and are looking forward to introducing ourselves in Bangladesh shortly. The company works closely with 28 network operators across the globe and as we venture into new markets, we are going to sign new operators and enter into new partnerships. In 2006, the company entered into a joint venture with the $20-billion Haier Group, to form Haier Telecom India, with a mandate of creating leadership for the Haier brand in the CDMA handset segment.
What kind of marketing initiatives do you employ to promote your brand? 
Our tie-ups with 28 telecom operators across the globe in countries with open market opportunities have opened up new avenues for us. We are already a known brand in many parts of the globe today. As a part of our marketing initiatives, we have signed up major distributors and have associated with leading LFRs. We have a huge distribution network in India and we sell our products under the Olive brand. Olive has also roped in Kapil Dev as its goodwill ambassador as a means to provide value to the brand. 
For more contact:
samrita@varindia.com
See What's Next in Tech With the Fast Forward Newsletter
Nothing to see here - yet
When they Tweet, their Tweets will show up here.