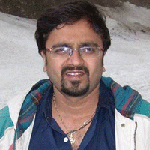 Jignesh Mehata
Entrepreneur
Nishi infotech
Nishi infotech has been associated with Digilink for the last three years. "Honestly, at earlier stage we had few doubts in mind about the engagement but as our association progresses we were clear that this will follow the success and nothing else," adds Jignesh. 
He feels that association of an MNC brand with local giant definitely helps. As now they could offer more products under the same kitty. Level of engagement has been increasing every passing day. "It feels like being part of the bigger Digilink family."
Better channel policies definitely help partners to get business and grow further. Though there are many incidents where Schneider showed its sensitivity towards Partners' needs but the standout will be the one when Nishi infotech required some highly customized products for one of their new customers, and it was arranged by the vendor within the shortest span of possible time.
See What's Next in Tech With the Fast Forward Newsletter
Nothing to see here - yet
When they Tweet, their Tweets will show up here.