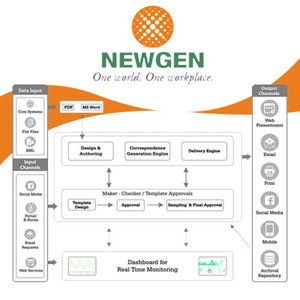 Newgen Software has announced the release of OmniOMS CCM Suite 8.0 which is enabled to meet the security standard compliance such as PCIDSS (The Payment Card Industry Data Security Standard) or HIPAA (Health Insurance Portability and Accountability Act of 1996, US) along with enhanced interactive output generation capabilities and enables HTML5 supported communication to generate dynamic content, among other features.
"The latest version enables businesses to design and manage their communication templates more efficiently. The HTML5 capability of this release will help organizations to make their communications more engaging and relevant for their customers developing an intuitive digital communications' strategy, the enablement for security compliance makes the product more robust and industry-centric," commented Diwakar Nigam, MD & CEO, Newgen Software on OmniOMS CCM Suite 8.0 release.
The latest version of the release has introduced the end-to-end capabilities on broad spectrum mentioned below which helps in better customer engagement:
Security compliance enablement: Supports the solution needing PCIDSS or HIPAA standard compliance.
Interactive document generation: Sending Email or sending for archival allows the business user to do more from the Interactive Correspondence Editor.
On-demand generation: Integration with business systems eases sending of emails and archival of communication using web services in synchronous mode.
Word import: Supports import of MS-Word designs which enhances usability and reduces the template design time drastically.
Docx: Generates documents in MS-Word format, in addition to PDF and printer-friendly formats.
Controlled word output: Generates MS-Word controlled output which is password protected, limits editable content and is track change mode enabled.
Third party DMS integration: Extends its archival capabilities to other document management system/s available in the market.
HTML5 output generation: Allows generating responsive and engaging marketing content through e-mailers.
The solution is essentially a link between the wide variety of information types, information sources and distribution channels. The solution entails synergy of disparate systems in the organization for different information types and manages to distribute it through a variety of channels. In the process of Customer Communication, OmniOMS (CCM Suite) offers ease of customer communication creation, manage design changes, distribution and control.
Tags: Newgen accelerates digital communication, OmniOMS CCM suite 8.0, newgen software, newgen, html5, PCIDSS, Diwakar Nigam ceo newgen software
See What's Next in Tech With the Fast Forward Newsletter
Nothing to see here - yet
When they Tweet, their Tweets will show up here.