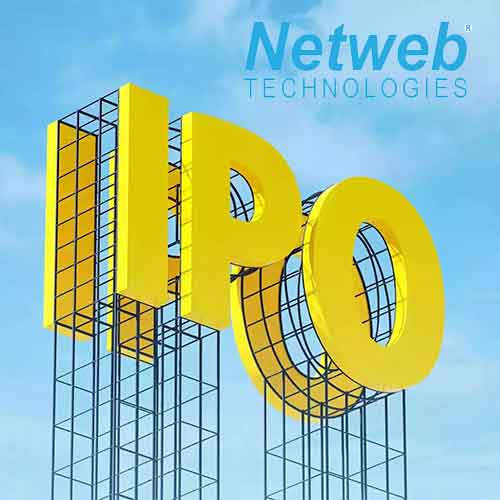 Delhi-NCR based server maker Netweb Technologies India Limited, one of the country's leading high-end computing solutions (HCS) provider has filed its draft red herring prospectus (DRHP) with the market regulator Securities and Exchange Board of India (SEBI) to raise funds through an Initial Public Offering (IPO).
The issue with a face value of Rs 2 per equity share consists of a fresh issue of equity shares worth up to Rs 257 crore and an offer-for-sale (OFS) of up to 8.5 million equity shares by Promoters selling shareholders.
The offer for sale comprises of up to 2.86 million equity shares by Sanjay Lodha, up to 1.43 million equity shares by Navin Lodha, up to 1.43 million equity shares by Vivek Lodha, up to 1.43 million equity shares by Niraj Lodha, and up to 1.35 million equity shares by Ashoka Bajaj Automobiles Private Limited.
The Offer is being made through the Book Building Process, wherein not more than 50% of the Offer shall be available for allocation to Qualified Institutional Buyers, not less than 15% of the Offer shall be available for allocation to Non-Institutional Investors and not less than 35% of the Offer shall be available for allocation to Retail Individual Investors.
The company, in consultation with the lead bankers to the issue, may consider a pre-IPO placement aggregating up to Rs 51 crore. If such placement is completed, the fresh issue size will be reduced.
As per the DRHP, the proceeds from the issue will be utilized to the extent of Rs. 32.77 crore for funding its capital expenditure, Rs 128.02 crore for funding its long-term working capital, Rs 22.50 crore for repayment or pre-payment, in full or in part, of certain of its outstanding borrowings and general corporate purposes.
A Make in India Story, Netweb Technologies, incorporated in 1999, is one of India's leading Indian origin, owned and controlled OEM in the space of HCS providing Supercomputing systems, private cloud and HCI, data centre servers, AI systems and enterprise workstations, and HPS solutions, according to a F&S Report mentioned in the DRHP.
Netweb Technologies is one of the few OEMs in the country is a recipient of production linked incentives schemes of the Government of India under the 'Make in India' policy for IT Hardware (IT Hardware PLI Scheme) and Telecom and Networking Products Manufacturing in India (Telecom and Networking PLI Scheme).
In terms of number of HPC installations, it is one of the most significant OEMs in India amongst others. Kabru was one such supercomputer which it was installed at IMSC Chennai. It has a speed of 1382 teraflops (Rpeak). AIRWAT which was recently deployed for an R&D organisation of MeITY has a speed of 6080 teraflops (Rpeak) as is expected to be India's Largest and Fastest AI Supercomputing System.
Netweb has both design and manufacturing capabilities inhouse and deployed over 300 supercomputing systems and over 4000 accelerator / GPU based AI systems and enterprise workstations as of February 2023. Intel, Samsung, AMD, NVIDIA are some of the companies it collaborates with to innovate on product offerings.
It caters to marquee Customers across various end-user industries such as information technology, information technology enabled services, entertainment and media, banking, financial services and insurance (BFSI), national data centres and government entities including in the defence sector, education and research development institutions (Application Industries) some of them being IIT Jammu, IIT Kanpur, Airamatrix Private Limited (Airamatrix), NMDC Data Centre Private Limited (NMDC Data Centre), Graviton Research Capital LLP (Graviton), Institute of Nano Science and Technology (INST), HL Mando Softtech India Private Limited (HL Mando), Dr. Shyam Prasad Mukherjee International Institute of Information Technology, Naya Raipur (IIIT Naya Raipur), JNU, Hemvati University, Akamai India Networks Private Limited (Akamai), and [ISRO].
It is a high-end computing solutions (HCS) provider based in India catering to many Indian and multinational Customers based in India and grow its geographical footprint in Europe, Middle East and Africa (EMEA).
In Fiscal 2023, it forayed into developing new product lines, viz., Network Switches and 5G ORAN Appliances and has recently introduced 5G cloud on core and edge for an international telecommunication service provider.
Between March 31, 2022 and February 28, 2023, it more than doubled its order book value from Rs 48.56 crore to Rs 98.12 crore.
Currently no listed companies feature in the HCS Solutions segment but for comparison purposes, the DRHP states Syrma SGS Technology Limited, Kaynes Technology India Limited and Dixon Technologies (India) Limited as its peers
For the fiscal year 2022, the company's revenue from operations increased 73.0% to Rs 247.03 crore against Rs 142.79 crore a year ago primarily due to an increase in the sale of Supercomputing systems, AI systems and enterprise workstations and data centre servers, sale of services due to deployment of 5G cloud solutions for an international telecommunication service provider. Net profit for the period increased 172.82% to Rs 22.45 crore as against Rs 8.23 crore last year.
For the six months ended September 30, 2022, revenue from operations stood at Rs 143.02 crore and net profit stood at Rs 14.73 crore.
The Covid 19 Pandemic accelerated the adoption of technology and cloud adoption. Tech spending is expected to be a top priority for many. HPC systems have gained popularity over time due to their ability to handle big data and solve complex problems at breakneck speeds. IIoT,AI, Engineering and services in Drug Discovery and Healthcare are likely to drive interest in the HPC market globally. India's supercomputing systems market is expected to grow at a CAGR of 9.3% from $539 mn to $919mn between FY23 -FY29.
Equirus Capital Private Limited and IIFL Securities Limited are the book-running lead managers and Link Intime India Private Limited is the registrar for the offer. The equity shares are proposed to be listed on the BSE and NSE.
See What's Next in Tech With the Fast Forward Newsletter
Nothing to see here - yet
When they Tweet, their Tweets will show up here.