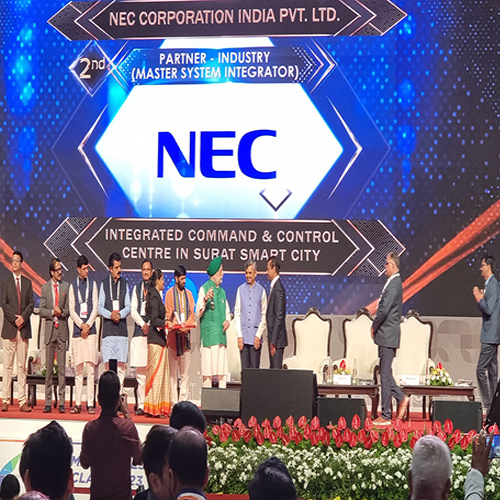 NEC Corporation India, a subsidiary of NEC Corporation, received an accolade today at the India Smart Cities Award Contest (ISAC) 2022 organised by the Ministry of Housing and Urban Affairs under the Smart Cities Mission. The event showcased NEC Corporation India as one of the top three MSIs in the smart city segment with its Surat Bus Automatic Fare Collection System (AFCS) project, winning the 2nd award in the MSI Partner category. NEC's award-winning Surat Bus AFCS has simplified citywide commuting for travellers, using contactless RuPay-based smart cards designed to enhance the daily travel experience for approximately 200,000 commuters.
Upon receiving this prestigious award from Hardeep Singh Puri, the Minister of Housing & Urban Affairs, during the award ceremony, Aalok Kumar, Corporate Officer & Senior Vice President - Head of the Global Smart City Business at NEC Corporation, and President & CEO of NEC Corporation India, said, "I am immensely proud of NEC India's significant strides in the urban mobility sector. This award speaks volumes about NEC's pioneering initiatives that champion sustainability, inclusiveness, and the advancement of the country's smart city vision. Received especially for the Surat smart city project, this acknowledgment from ISAC 2022 is reflective of both the city's and NEC's steadfast dedication to turning the notion of urban mobility into a beneficial daily reality for its inhabitants. Surat's transformation into a paradigm of a smart city is truly commendable. The flawless amalgamation of its public transport systems is just one among its many accomplishments, making the city a standard for others to emulate."
Aalok Kumar further added, "I thank the Indian government for trusting NEC India with vital smart city projects. We aim to provide safe, smart, and secure solutions, supporting India's growth and meeting the needs of its billion+ citizens."
Kamlesh Naik - General Manager and Managing Director of Surat Sitilink Limited, said, "The AFCS implemented in Surat is a SMART solution that aligns perfectly with our city's vision for SMART public transportation. NEC has not only set up the system but has also exhibited unparalleled dedication in its operations and maintenance over the past seven years. This steadfast commitment has resulted in a seamlessly integrated public transit experience for our citizens. Thanks to NEC's comprehensive work, commuters in Surat can now enjoy the convenience of a single integrated ticket, regardless of their chosen mode of transportation. This integration has empowered the Surat Municipal Corporation to consolidate and streamline various transit offerings, including the Bus Rapid Transit System (BRTS) and city bus services within high mobility corridors. Furthermore, NEC's innovative approach has ushered in the digitization of fare collection and revenue generation, bringing technological advancements to our public transport system. This not only enhances efficiency but also sets a new standard for modern urban mobility solutions. We look forward to continued success in our collaborative efforts to elevate public transportation in our vibrant city."


Initiated on 10th March 2017 and accomplished by 15th February 2019, AFCS is a SMART solution of the Surat smart city to achieve the SMART goals. NEC, having set up the system, now managed its operations and maintenance for seven years, highlighting its dedication to streamlined public transit. Thanks to NEC's comprehensive work in Surat, people can now commute throughout the city with a single ticket, regardless of their choice of mode of transportation. This initiative has empowered the Surat Municipal Corporation to integrate its various transit offerings, including the BRTS and city bus services, in high mobility corridors. The Surat Money Card (SMC) integrates multiple AFCS features, ensuring seamless operations across 157 BRTS stations and spanning 166 BRTS and 575 city buses. Furthermore, by minimising paper ticket use, the SMC supports Surat's environmental ambitions while providing users with advantages across municipal services and shops. Notably, ridership (per day) surged from 28,000 in 2014 to 210,000 in 2022, and transactions per day via the Surat Money Card rose exponentially from none in 2018 to 72,754 in 2022.
See What's Next in Tech With the Fast Forward Newsletter
Nothing to see here - yet
When they Tweet, their Tweets will show up here.