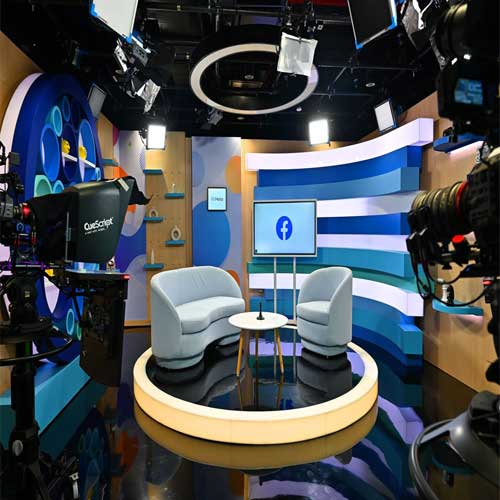 Meta (formerly Facebook), today unveiled a new office in Gurugram. Spanning 130,000 square feet*, across 6 floors, this is Meta's first stand-alone office facility in Asia, and blends global and local culture.
Meta's vision is to give people the power to build community and bring the world closer together. Its offices worldover are designed to align with that mission. The new Meta headquarters is designed with an open floor plan and its unfinished look. This is meant to inspire collaboration and the consciously exposed concrete pillars and wires on the roof are meant to reflect its start-up roots.
Since unveiling its first office in Hyderabad in 2010, the company has evolved and rebranding to 'Meta' is the most recent example. The name represents the company's vision for the future of the internet, which is the 'metaverse' - a place where the physical and the digital worlds converge. It will be more immersive and engaging, creating a shared sense of space with another person and another place. The Metaverse is the next evolution of social connection and the new office has been designed in that backdrop.
Ajit Mohan, Vice-President & Managing Director, Facebook India (Meta) said, "We see this office as an opportunity for us to build a space that will house our largest team in the country. The office will be open to anyone who is driving change - be it creators, small business owners, entrepreneurs, artists or community leaders. The spaces here will see directed, purposeful efforts from Meta to fuel their pursuits, ideas and ambition. That is why we are embracing the ambitious goal of training 1 crore small businesses and 250,000 creators. We see this office as a reaffirmation of our commitment to the country, our deep aspiration to be an ally for a country that is rapidly transforming and where technology will play an enabling role in enhancing lives and prosperity of future generations.''
Workspace that augments creativity and incorporates pop-culture
Designed with modern, minimalist and functional furniture, the bright red, deep blue and and mustard tapestry add a burst of colour to the office. An events center and a full production studio - equipped with a green room, are avenues for creation and collaboration. The wall culture within the office encourages everyone to scribble their ideas on whiteboards or share 'What's on your mind?' on walls seen all over the office. Elements of quirky local and pop-culture are introduced with meeting room names such as 'Chellam Sir Will Know', 'Felt Cute(Might Delete Later).' and 'When Is The Next Long Weekend?'.
Art that represents India readying for the future
From the earliest days, art at Meta offices has ignited the minds of people and contributed to the company's culture. For the Gurugram office, the aim was to have art that reflects India's cultural and ideological diversity that's shifting from traditional towards a new identity.Indian artists Pratap Morey, Rohini Devasher and Sameer Kulavoor worked with this brief and shared their interpretation of it. The enormity of their art pieces captures the imagination of viewers, as Rohini's artwork spans over 65 feet, and Pratap's artwork spans six floors of the building. Their work captures the future with a broad view of urbanisation and globalisation, in an attempt to invite new ways to think about ourselves and the world at large.
A 'Center for Fuelling India's New Economy'
As a tribute to India's vibrancy, entrepreneurial spirit and creative zeal, the office has a dedicated space titled 'Centre for Fuelling India's New Economy', which highlights the way 'Digital India' is shaping up, and the role Meta and its platforms are playing in that journey. The centre showcases the way technology can act as a bridge for skilling and economic development. This includes a dedicated area for demonstrating how new technologies like AR and VR will transform some of the key sectors such as learning and education, commerce and healthcare in the future.
Keeping safety and sustainability at the forefront
Considering the pandemic, the office has also moulded several experiences in the interest of health and safety of employees. This includes several touchless experiences in the cafeteria and washroom facilities, as well as other best practices such as touchless sanitization stations and temperature checks. The building is also LEED Platinum Certified.
See What's Next in Tech With the Fast Forward Newsletter
Nothing to see here - yet
When they Tweet, their Tweets will show up here.