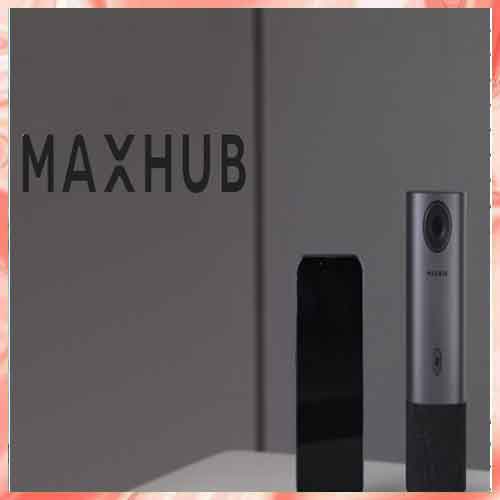 MAXHUB has recently introduced a wide array of advanced displays and video conferencing devices to unlock the power of unified communication devices and provide a seamless meeting experience. The cutting-edge technology solutions will benefit all sizes of conference rooms and will create smarter virtual interactions thereby further increasing the effectiveness and productivity of corporate meetings in offices. The newly launched series of products includes BM35, BM21, and UC M40.
MAXHUB has introduced all the products, keeping various aspects in mind such as portability and practicality. These are sets of powerful audio devices, built for better meetings. One of the most useful products, BM35 optimizes to keep human voices clear. Capturing every utterance in perfect detail, the BM35 empowers any team. This compact powerhouse combines exceptional immersive sound. The 360° omnidirectional audio algorithms capture voices up to 6 meters away, so everyone in the meeting can make their voices heard.
On the other hand, BM21 360° Bluetooth speakerphone is a well-rounded performer that supports every important conference call anytime, anywhere. Its voice pickup range ensures you are heard clearly in your flexible seats. The built-in high-performance dynamic speakers bring a crystal-clear voice experience. Built-in high-performance large dynamic speakers, with intelligent noise reduction and echo cancellation algorithms, and PZM structure design bring you a high-quality voice experience.
The UC M40's 4-lens 360° super wide-angle camera captures every participant's face directly, without fisheye distortion. It can see and hear by the all-in-one conference camera that tracks every face or follows every word in small to medium-sized spaces. Small enough to fit in the palm of your hand, the UC M40 combines 4-lens precision with intelligent speaker tracking for a true 360° immersive experience naturally.
Avinash Johri, Executive Director, CVTE India & SAARC Region, said, "The future of the corporate world is definitely going to be based on a hybrid model. We created these series to be very engaging because corporates build on active virtual meetings. Therefore, companies are looking for improved methods of collaboration when it comes to creating engaging and successful meetings, and more nowadays. We hope to achieve great growth in India by providing our consumers with incredible values".
Every industry has been significantly impacted by the pandemic. Video Conferencing cameras and display devices have made concepts like hybrid learning, and social distancing easier to implement. Therefore, the post-pandemic era has encouraged everyone to use innovative better solutions and make the environment professional for every individual.
See What's Next in Tech With the Fast Forward Newsletter
Nothing to see here - yet
When they Tweet, their Tweets will show up here.