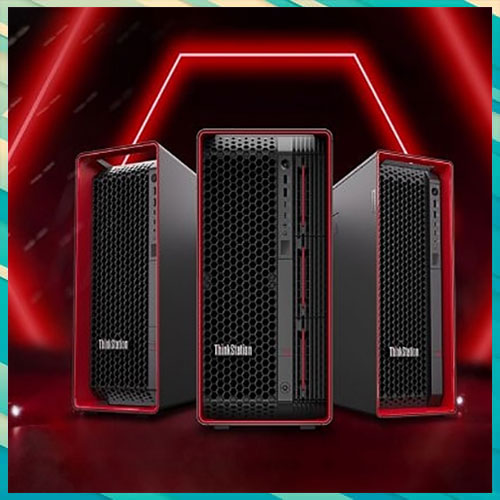 Lenovo has announced the launch of its latest trio of unconventional desktop workstations, the ThinkStation PX, P7, and P5. These technologically advanced workstations have been co-designed with Aston Martin, an iconic high-performance automotive manufacturer and leader in the ultra-luxury automobile market. These workstations are powered by Intel's latest processor technology and NVIDIA RTX professional GPUs to surpass the most extreme, high-computing workloads across various industries, offering users unparalleled power, performance, and productivity. 
To bring the ThinkStation PX, P7, and P5 to life, Lenovo partnered with Aston Martin. The collaboration aimed to create workstations that not only deliver exceptional performance but also embody Lenovo's iconic red design language and Aston Martin's design philosophy. Together, the teams engineered a tool-less chassis design with extreme flexibility and enhanced ergonomics, allowing users to elevate and optimize every stage of their complex workflows. 
Inspired by Aston Martin's iconic DBS Grand Tourer, the chassis' 3D grill design channels high-performance automotive insights into a desktop workstation. Redesigned air baffles, larger 3D hex ventilation openings, and Lenovo's patented tri-channel cooling system ensure maximum airflow, enabling peak performance for CPUs, GPUs, memory, and storage. The workstations also feature an innovative, modular design with front access drives for easy serviceability and upgrade flexibility. 
Ajay Sehgal, Executive Director, of Commercial Business, Lenovo India said, "We are thrilled to introduce the new desktop workstations, which have been meticulously designed for customers with the need for powerful and professional systems. Our machines are engineered for ultimate versatility for high-performance oriented industries spanning from architecture, VFX, automotive, engineering and construction, to healthcare and life sciences, including media and entertainment. With the collaborative design influence from Aston Martin, our goal is to empower professionals to push the boundaries of creativity and productivity, enabling them to have the power and stability needed to create the industry's latest innovations." 
The ThinkStation PX is Lenovo's flagship workstation, powered by the latest 4th Gen Intel Xeon Scalable processors offering up to 120 CPU cores, and boasting of a 53% average performance gain over its predecessor. With support for up to four dual-slot NVIDIA RTX 6000 Ada Generation GPUs, this workstation handles the most complex workflows, including creative finishing and computer-aided engineering (CAE) simulations. Rack-optimized, it provides seamless transitions between desktop and data center environments. The ThinkStation PX features up to 2TB of DDR5 memory with ultra-fast bandwidth through PCIe Gen 5 lanes, facilitating multi-user virtualization in hybrid workflow environments. 
The ThinkStation P7 introduces a breakthrough computing architecture with the latest Intel Xeon W processors supporting up to 56 cores in a single socket that provides unprecedented power for compute-intensive, multithreaded tasks. With support for up to three dual-slot NVIDIA RTX 6000 Ada Generation GPUs, the ThinkStation P7 is ideal for content creators, architects, designers, engineers, and data scientists. It delivers outstanding graphics, visualization, real-time rendering, CAE, and AI performance, making it perfect for tasks ranging from automotive styling and computational fluid dynamics analysis to complex video production and rendering workflows.  
Engineered for various industries, the ThinkStation P5 is a workhorse of a desktop workstation. It features Intel Xeon W processors with up to 24 cores, and supports up to two NVIDIA RTX A6000 professional graphics cards. This workstation excels in solid modeling and compute-intensive tasks, including building information modeling (BIM), complex 3D computer-aided design (CAD), reality capture, geospatial visualization, visual effects, and edge deployments.
The ThinkStation PX, P7, and P5 workstations are built to excel in the most demanding professionally managed IT workplace environments. Lenovo's rigorous standards and testing, ThinkStation Diagnostics 2.0, ThinkShield support, upgrades to Premier Support, and a three-year warranty provide peace of mind for working confidently and securely. 
The new ThinkStations start at INR 1,20,000 onwards and are now available on Lenovo.com. 
See What's Next in Tech With the Fast Forward Newsletter
Nothing to see here - yet
When they Tweet, their Tweets will show up here.