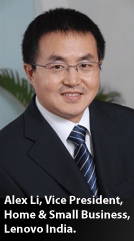 What do you think about the mobile PC revolution in India? What is its size and how are you focussing on the SME segment? 
The mobile PC segment is one of the fast-growing segments in India. As per IDC's India quarterly PC Tracker, 1Q 2010, May 2010 release, the sale of notebooks grew at 72% year-on-year (1Q 2010 over 4Q 2009), clocking 8.03 lakh shipments, the highest in a quarter. Lenovo has been ranked No. 4 with a YoY growth of 134% in the notebook segment.

 
Lenovo India has seen significant increase in its business after Lenovo's renewed focus on the SME segment, leading to positive growth over the last few months. Lenovo is bullish on the SME segment in India and SMEs and SOHOs lie at the heart of our retail strategy. In fact, our exclusive stores will now have special "Think" corners. In the recent past, we launched the ThinkPad Edge Series and the ThinkPad X100e business ultraportable laptops to specifically address the needs of SME customers. The ThinkPad Edge Series of laptops are designed to provide the ThinkPad USP of durability and reliability, while providing professional and bold designs. The ThinkPad X100e, on the other hand, is a pioneering product in the industry as it offers ultraportability and the ThinkPad brand promise at an entry-level price point.
 
What kind of trends do you see in the SME space? 


In 2010, IDC estimates the WW laptop market for SMEs to be 45 million PCs and to grow to more than 99 million by 2011. SME is definitely a high growth segment for us in India. In fact, Lenovo has renewed its focus on the SME segment and has instituted a robust channel strategy to optimally tap the potential offered by this segment. We will be applying our key learning(s) from our experience in the China market and are expanding into three verticals, i.e. value-added resellers (VARs), retailers and SIs. We are very positive on the SME segment and are targeting them with focussed products. VARs are integral to our SME strategy and will play an instrumental role in helping us increase our business presence in the SME segment.
 
Given your presence across product lines, what is your channel strategy? 


Lenovo is committed to increasing growth in the emerging markets, especially India. We want to exhibit our best practices from China to India. We treat channel partners and distributors as our natural partners-in-profit. 

 
Our core channel strategy in India is to build on our existing base of 7,000 channel partners, getting closer to our customers with pathbreaking product portfolios and prepare for more streamlined operations with our business partners. 

 
For the consumer PC segment in India, Lenovo has established a two-tier model. In the tier 1, we have four distributors, out of which two are national distributors. These distributors cater to seven regions like South one (Andhra Pradesh, Karnataka), South two (Tamil Nadu, Kerala), North, Central, West, East and Mumbai. On the other hand, in the SMB segment, Lenovo has two national distributors who cover the whole country, except the NCR region .We will also be expanding three verticals - VARs, retail and SIs. We acquire 45 per cent of business from VARs and another 45 per cent from SIs. The remaining 10 per cent of our business comes from the retail segment.
 
Can you share with us a road map and the go-to-market approaches you follow for different product lines?


Gartner projects growth in the overall IT spends in 2010, with demand for IT by businesses and consumers on an upward swing. Hence, there will be a need for more PCs. Mobility will be a significant element in the PC industry in due course of time. With the launch of 3G slated for this year, the market will definitely see laptops with 3G-ready features. Lenovo will meet the growing demand for IT products by introducing PCs with cutting-edge technology across price levels, catering to specific segments.
 
Do you think the rural market is yet to be explored?  


The demand for PCs in rural areas is growing every day. To tap this opportunity, Lenovo is focussing on building a strong channel base, which will enable us in getting closer to our customers quicker, with an outstanding product portfolio and drive market expansion into tier-2 and tier-3 cities. We aim to significantly increase retail penetration in Tier-II and III markets. 
 
What is your present strategy to sell and market the products to SMEs? 


India is an important emerging market for our worldwide business. We recognize the importance of the SME segment and the pulse of the Indian SME customer. We will be extensively focussing on innovation-based products for the consumer and SME segments in the year ahead, along with maintaining leadership in the enterprise segment as well.

 
We also improved our channel inventory situations, leveraging our strong channel base. This has helped us get closer to customers owing to our strong product portfolio and paved the way for streamlining operations with our business partners.
 
What is the opportunity for the IT channel partners? 


Lenovo is committed to enhancing strong growth in India. We are adopting clear-cut, streamlined business models. We treat channel partners and distributors as our natural partners-in-profit and enjoy a very healthy relationship with them. We are focussed on strengthening a robust channel base in India and are banking on our core channel network to facilitate rapid inroads into our target markets. One huge factor for our success over the years, as well as continuing growth, has largely been a result of the unwavering cooperation and noteworthy efforts of our trusted channel partners.

 
Our current strategy addresses priorities and roles in the distribution structure and enhances relationship with our channel partners. Our priority is to drive market expansion into non-metro/ tier-2 and tier-3 cities, expand our product portfolio, especially in the lower end of the price band and offer customers improved levels of service across more service centres in the country.
See What's Next in Tech With the Fast Forward Newsletter
Nothing to see here - yet
When they Tweet, their Tweets will show up here.