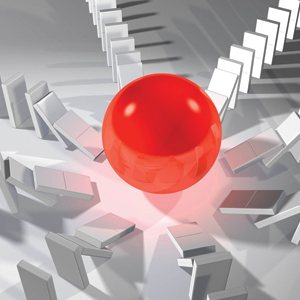 IT-BPM services market has shown modest growth due to technology disruption and Brexit Referendum  

The global IT-BPM market stood at $1.2 trillion in 2016 (excluding hardware). The year also saw a modest growth of 4 per cent , after a couple of years of flat growth. Growth was experienced in IT services thanks to cloud, BPM due to adoption of BPaaS and RPA, packaged software and global R&D. In 2016, global sourcing grew 1.7 times to reach $173-178 billion and India was the No 1 sourcing destination with a market share of 55 per cent.   

The Indian IT-BPM industry has touched revenue of $143 billion in FY2016 and is projected to grow at at the rate of 8 percent in FY2017 to reach $154 billion. In addition, E-commerce will fetch $33 billion. 

The Indian IT-BPM sector contributes around 49 per cent of total services export and contributes 7.7 per cent to India's GDP. Overall, the Indian IT-BPM industry is estimated to employ nearly 3.9 million people an addition of 170,000 people over FY2016. 

India's IT-BPM industry is feeling the impact of the global slowdown and global political uncertainties as clients go slow on decision making and investment processes. 

The industry comprises of 16,000+firms and over 4,750 start ups, making India the 3rd largest eco-system in the world.  

TCS has seen broad-based growth across markets with all industry verticals in FY2016-17 except BFSI, retail and hi-tech growing in double digits. Among major markets, Europe grew in double digits (13.6%) and crossed $2 billion milestone in revenues followed by North America (7.6%) and UK (6.1%). Among growth markets, MEA (14.8%) and Latin America (14.1%) led the way while India grew at 10.1% and APAC at 5.7%.

In terms of division, Enterprise Solutions and Consulting crossed the $3 billion and Business Process Services crossed the $2 billion revenue milestones respectively. Driven by IoT and Industrial Internet solutions, Engineering services led the way with 17.4% growth during the year while Infrastructure Services grew at 16% followed by Assurance services with 12.5% growth and BPS with 10.4%.

In FY2016-17 digital revenues grew 29% due to accelerating adoption across industries as customers looked to transform their enterprises. TCS captured significant opportunities in cloud, automation, analytics and IoT with 16.7% of total revenues ($3 billion) coming from digital services.

One key Digital India initiative that was launched during the year was the Aadhaar Merchants Digital Payments platform to enable UID-biometric based transactions in retail outlets to help drive financial inclusion and bring digital payments at the bottom of the pyramid using an Aadhaar number and an Aadhaar-linked bank account.

Cognizant recorded revenue of $13.84 billion, up 8.6% from 2015. The company has included Digital for the first time and includes projects that help clients create more engaging experiences by applying artificial intelligence and advanced analytics to build loyalty and drive revenue growth; automate and modernize core business processes through bots that augment human capabilities and simplify how business is conducted; and deploy secure, cloud-as-a-service models that enhance operational efficiencies. 

Revenue associated with digital-oriented activities accounted for 23% of total Cognizant's revenue in 2016 - growing well above the company average - and we are rapidly accelerating our digital initiatives moving ahead.

The company is making good progress in accelerating Cognizant's shift to digital services and solutions to create value for clients and shareholders, positioning us well to achieve both our revenue and margin targets for this year.

In FY2016-17, Infosys focused on deepening its partnerships, investing in technology and expertise, and participating with clients and partners in the technical communities that drive value for clients. Together with Salesforce, Infosys recently announced plans to create a new practice focused on building and providing implementation services for Salesforce's Analytics Cloud applications. Infosys continued to help clients drive automation and innovation into the core of their businesses, through renewed services, new software and services, and culture of learning and education.

Wipro has announced its partnership with Harte Hanks to offer marketing technology services. As part of the multi-year engagement, Wipro will upgrade Harte Hank's data analytics and applications platform, create a scalable operating model and simplify IT related processes for the company. Wipro has announced a new IoT-based solution for wind parks and wind turbine manufacturers, that leverages the Hewlett Packard Enterprise (HPE) Windpark Manager 4.0. Wipro is delivering analytics-based insights for specific industries with the Data Discovery Platform, its newest big data analytics-as-a-service solution. Built with IBM BigInsights and IBM dashDB and developed on Bluemix, IBM's cloud platform, the solution accelerates insight-driven decision making through pre-built applications for specific industries, such as banking and financial services, retail, energy, education and manufacturing. 

Wipro has recently unveiled a new logo. The new logo represents the way the company "connects the dots" for its clients: integrating deep technology and domain expertise, applying insights from across industries, and consistently delivering world-class integrated, end-to-end capabilities and services. The logo also highlights Wipro's strong technology heritage and reflects its capabilities for the future.

The styling of the brand mark gives it a sense of fluidity, resourcefulness, optimism and a connected world. The individual elements in the logo represent ideas, insights, technologies, industries and geographies. The expanding pattern symbolizes a boundless Wipro. The four circles represent the Wipro Values, Employees, Clients & partners, and Communities. The blue of the word mark creates a sense of reliability and authority.  

HCL Technologies has won broad–based business wins in next–generation integrated offerings – Next–Gen ITO, BEYONDigital and IoT WoRKS, reflecting investments in Internet of Things, digital technologies, cloud, automation and artificial intelligence. HCL has also solidifies its leadership in Internet of Things with best–in–class IoT frameworks, solutions and offerings as well as strengthening its IoT ecosystem play with the right partnerships.

In terms of verticals, public services leads growth followed by retail & CPG, life sciences & healthcare, manufacturing,  telecommunications, media, publishing & entertainment and financial services. HCL Technologies has extended its IP partnership with IBM to define the future roadmaps for additional products in the areas of application security, B2B data transformation, testing automation and API/web service enablement for mainframes.

In FY2017, IT-BPM exports from India is expected to reach $117 billion, a 7.6 per cent growth over the previous year and an addition of $8.2 billion. On an average, all regions expected to see growth of 7.5 per cent. USA and Europe (including UK) account for 90 per cent share of exports. Emerging verticals including retail, healthcare, travel & transportation etc are expected to grow at nearly 8 per cent fastest than industry average. BFSI/hi-tech/telecom  continue to be the mainstay with over 58 per cent share.    

In FY2017, India's domestic IT-BPM market is likely to grow 8.5 per cent year to year reach $38 billion (excluding E-commerce). IT services is the largest with close to 40.5 share, followed by hardware (around 37 per cent), software products (12.5 per cent) and BPM with 10 per cent share. IT services is to record the fastest growth of 11.4 per cent; demand for mobile apps, website development and consulting services (around customer experience, IoT, and analytics) are the key growth drivers. Software products is forecast to grow 10.4 per cent to $4.8 billion due to the ever growing demand for cloud based solutions, particularly from SMBs. Rapid digitisation and GST is expected to further catalyse growth. BPM is expected to $4 billion market with a 6 per cent y-o-y growth. The growing E-commerce market and demand from BFSI, retail, telecom industries as well as government's Digital India's initiatives are the key growth factors.  

The Indian IT-BPM firms are focusing significant resources towards developing their digital capability by reorganising themselves to catch the digital opportunity. Adoption of digital technologies at the enterprise level is still at a nascent stage which will pick up in years to come. Once the digital revenue picks up we will see investment in social media, security and analytics.  

By 2020 it is expected that India's IT-BPM sector total revenue is projected to reach $200-225 billion and between $350-400 billion by 2025. Digital technologies will drive the sector and the revenue from these is likely to be 23 percent by 2020 and around 38 percent by 2025 so Indian providers should get ready for this opportunity by offering new digital solutions to clients. 
India's IT-BPM Services Market
•    India's IT-BPM Services has touched revenue of $143 billion in FY2016 
•    Industry is projected to grow at at the rate of 8 percent in FY2017 to reach $154 billion
•    E-commerce will fetch $33 billion
•    India's IT-BPM Services contributes around 49 percent of total services export and contributes 7.7 percent to India's GDP
•    India's IT-BPM Services is estimated to employ nearly 3.9 million people an addition of 170,000 people over FY2016
•    Digital revenue contributes between 22-29% of overall IT-BPN company's revenue
•    By 2020, India's IT-BPM Services revenue is projected to reach $200-225 billion and between $350-400 billion by 2025
See What's Next in Tech With the Fast Forward Newsletter
Nothing to see here - yet
When they Tweet, their Tweets will show up here.