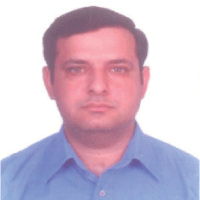 Sanjay Hans,
Sr. Manager, Service Operations Support, Intex

How do you address customer queries? Do you have any toll-free number? 
We have a toll-free number, in which the customer can lodge his complaint. This toll-free number lands in the call centre that we have in Noida and all the pre-sale queries can get answered by our executives there. Whether you want to know about the features of any product, or you require any kind of services, or you want to know from where you can buy our product, you can directly call on this toll-free number and our executive would guide you along and help you with regard to all your queries. Besides this call centre, we have a facility for providing onsite support also. We try giving end-to-end services on some of our products which need onsite support like PCs, TFTs and UPS through this number. The customer just needs to register his complaint by calling on this number, and a person from our service centre will visit that customer's place and look into the complaint. So, this is another facility set up by us at our call centre.
What kind of warranty policy does Intex has? Is it onsite or offsite? 
Intex offers a mix of onsite and offsite warranty, depending upon the category of the product. Products like keyboards, mouse and mobile phones have "carry-in" or offsite service, but for UPS and TFT monitors, we have onsite support. We have fixed a definite warranty period for every kind of product and depending on the category, the warranty period varies from product to product. For instance, we provide a 3-year warranty period on a PC - 1 year onsite and 2 years offsite. Our onsite warranty service is applicable to only certain cities, mainly the major metroes and is still not available in every place. 
Do you have your own service centres or are they Third Party Maintained (TPM)?
We have got a total of 500 touch points all over India, out of which 51 are our, i.e. company-owned service centres. We call them as TRC (Technical and Repair Centres) and the rest all are franchisee-owned. Some 400 of them are for the mobile phones and 66 are for the IT products. In some of the cities where we have got our distributors, we have appointed one resident engineer and he caters to all those products that come under his purview. So, we have created the infrastructure which is in sync with our roadmap to get better visibility in more cities and this is why we would like to increase the number of our IT franchisees and our TRCs to 700 in the current financial year.  
Tell us briefly about the e-service offered by Intex? 
e-service is basically a web-based online support system and currently our entire service network is accessing it and using it to lodge complaints for repairs. The service takes care of the entire operation of services, from job registration to job completion. Any customer coming to our service centre with any complaints has to be booked on a job sheet. With this system, we can book this job sheet online and can preview it at our headquarters as to how many job sheets are being booked and what is its status like; whether it is complete or it is pending for parts. So, we can monitor everything through this online system. Along with the repair management, we can also do parts management with this system. The purchase of spare parts can be done through this system and also warranty claims to partners can be managed on this. This system has already gone live and our service network throughout the country is finding it convenient and easy working on this e-service. 
How have the customers responded to your new initiative "e-service"?
We started this system from April 2010 and we are almost on the verge of finalizing it. As you are aware that any system needs at the most 6-7 months of time before it finally gets implemented in that huge network. So, it is a matter of time before we can actually comment on it. As of now, we have almost 2,500 users who are actually using it all over India. So, our responsibility is to give them intensive training and tell them how to use this system. We are in the phase of implementing it and favourable feedback from our partners as well as from our own service centres is pouring in. Earlier, they were doing it through a manual process, but now it is a web-based system and they just need to log into the web and work on it. That way, it is very user friendly and very easy to use. Once we finalize this system, we will introduce an email and SMS system too. After a customer submits his job sheet with any service centre, he will get an auto SMS and email in confirmation, and he will be updated on his job sheet status. So, we would like to introduce that kind of an automated system further in the second stage of our implementation.
For more contact:
samrita@varindia.com
See What's Next in Tech With the Fast Forward Newsletter
Nothing to see here - yet
When they Tweet, their Tweets will show up here.