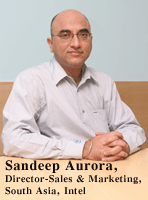 Tell us about Intel's foray into the SSD space. Was it a global launch?
Whenever Intel launches any product, it simultaneously gets launched in every part of the globe. The launch happens in India the same day as in the USA, Europe or any other country worldwide. SSDs are still a niche product and you will find a small percentage of people buying them. In SSDs, as you know, there are less moving parts as compared to HDDs and commands better usage and better response time. Our key effort is to convince our customers about how SSDs are beneficial to them and want more and more people to know about these products. So, right now we are at a category creation phase and then the later stages will follow, when we need to consider the competition that we are faced with. It will take some more time, some more quarters before SSDs start selling in lakhs of units and the game will change a little bit then. 
Have you already partnered with brands for positioning your SSDs? 
Since it is still in the initial stage, I cannot confirm you anything as to who are the partners we are working with in the SSD space or how are we moving ahead in terms of signing new alliances. As of now, our main objective is to create the category first and then work with a broad category of partners. We want to take our SSD messages to a wide range of consumers, SMBs, enterprises so that they start seeing and understanding the benefit and usage of SSDs. Once that phase gets cleared, we would start looking at alliances more seriously. By the end of this quarter, we can come out with some concrete details. This would also mean the start of the festive season when sales normally scale up. 
Now that you have entered the SSD space, you will be having a different set of competitors. Will you be realigning your market strategy?
Whatever be the case, the basics would not change. Everyone knows where Intel stands today. We will strive to provide the highest quality and a wide range of products, training and support to our partners, both OEMs and channel partners. These things will remain unchanged. Now, we have to see whether the same set of partners are selling our SSDs or are we going for completely new ones or a subset of our current set of partners. If it becomes a mainstream product, it will need a different strategy. The strategy will vary as we go along and as the market size varies. Trying to provide the best-in-class products, which have the backing of Intel R&D and support, will be the simple strategy to start with. 
What kind of response are you getting from your partners on your entry into the SSD space?
I think there is no apprehension. Instead, there is a lot of interest being generated around it. Whenever Intel comes out with anything, there is always a kind of interest generated in the technology world. So, there is more excitement than reluctance among our partners. A lot of feedback is coming as to what Intel should do and should not do in this category, and we are taking them into consideration. As I had mentioned, the market for SSDs is at a very nascent stage. So, creating awareness is the foremost thing to be done before the hype for it is created. 
Have you started with ICC 2010?
We have already kick-started ICC (Intel Channel Conference) and only some cities are left now. This will go on till the end of the month of August and the next one starts from next quarter. We are conducting the ICC in the top 15 cities of India, where we cover a large number of partners. At the same time, the mini ICC is happening simultaneously in smaller cities. Whether it is ICC or mini ICC, or for that purpose any other technical trainings, they are all part of the Intel's annual training calendar. These interactive sessions keep on taking place on a regular basis and through these training programmes, partners are updated on newer technologies and its functionalities and usage. We believe that they should be well versed in whichever technology they are dealing in or selling to our customers. 
ICC would prove to be a good platform to introduce our SSDs. Our partners will have an opportunity to see the new products and the new features that we have introduced.  
How has the Indian market fared post recession?
The market is growing really very fast. It is recording robust growth both in laptops and desktops. The new netbooks have done very well. India has a long way to go in terms of PC penetration and having to sell a whole range of products for any channel partners, starting from atom-based netbooks to gaming consoles, is very crucial. The message to channel partners is that they need to get trained in every range of products they deal in, so that when they are able to talk to a customer with confidence and sell the right product to him.
For more contact :
samrita@varindia.com
See What's Next in Tech With the Fast Forward Newsletter
Nothing to see here - yet
When they Tweet, their Tweets will show up here.